Written by

Christopher Neff, Lecturer in Public Policy, University of Sydney
A Senate Committee report on shark deterrent measures has, in the words of committee member Senator Peter Whish-Wilson, moved the "shark cull debate into the 21st century".
The first recommendation of the inquiry is to "immediately replace lethal drum lines" with so-called SMART drum lines and to phase out shark nets.
Yet if the news media are to be believed, these conclusions go against the grain of public opinion, with Western Australia's spate of shark incidents having spawned previous headlines such as "Calls grow louder for shark culling in WA". More recently, a series of incidents in Ballina in northern New South Wales prompted our surfing former prime minister Tony Abbott to weigh in, calling on the state government to authorise culls and nets.
Read more: Sharks aren't criminals, but our fear makes us talk as if they are
The question of how much the public really supports policies that kill sharks has been surprisingly difficult to answer. The Senate inquiry noted that while it had been suggested "that lethal measures such as nets are no longer supported … reliably ascertaining community views on matters such as this could be quite difficult".
Difficult? Yes. But doable. We have surveyed public opinion in Western Australia and Ballina, following shark bite incidents in each place. In fact, over the past five years we have searched high and low for the type of widespread support for lethal policies that is suggested by the tabloid press. It simply is not there, as our findings in the peer-reviewed journals Conservation Letters and Marine Policy show.
Public opinion in Perth and Ballina
In fieldwork including phone polling in both Perth and Ballina, as well as face-to-face surveys of local residents, beachgoers, and business owners in Ballina, we consistently found levels of support for lethal policies in the 20-25% range.
This is particularly remarkable in the case of Ballina. As the shire's mayor David Wright told the Senate committee, between 8 February 2015 and July 2016, surfers there "were involved in 9% of the world's shark attacks and interactions", with the media dubbing it the "shark attack capital of Australia".
A large majority of people in both Perth and Ballina viewed shark bites as accidental rather than intentional. While fear of sharks is linked to higher support for lethal policies, fear alone does not cause people to support killing sharks.
Support for lethal policies arises when fear of sharks is combined with the misconceived idea that sharks bite people on purpose. In our surveys, respondents who view shark bites to be intentional were more than 2.5 times as likely to support policies that kill sharks.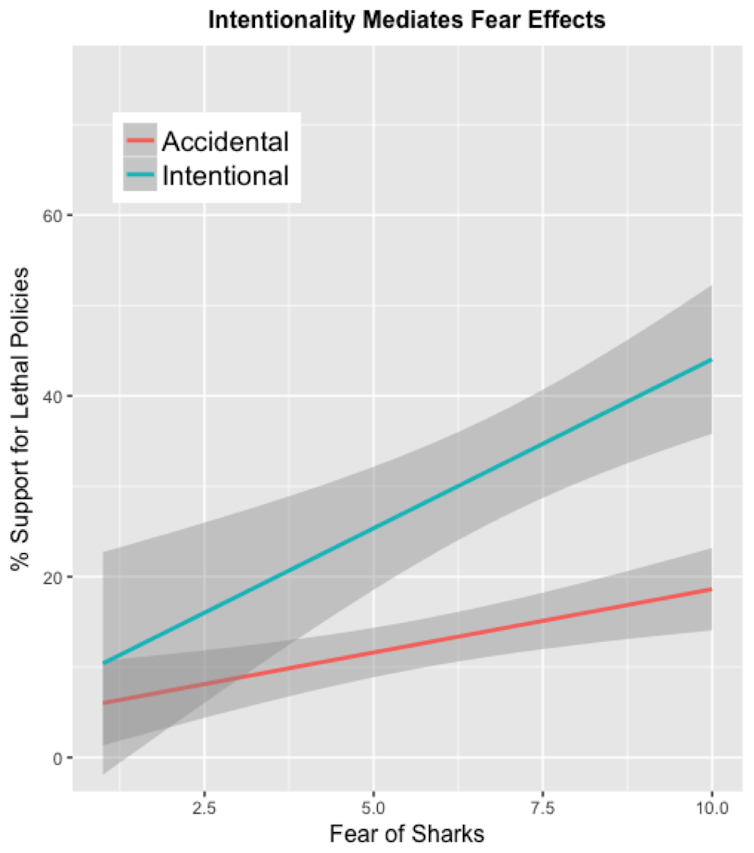 Authors: Christopher Neff, Lecturer in Public Policy, University of Sydney
Read more http://theconversation.com/tide-turned-surveys-show-the-public-has-lost-its-appetite-for-shark-culls-89163