Written by

Lillian De Bortoli, Research Fellow, Centre for Forensic Behavioural Science, Swinburne University of Technology
Filicide, the killing of a child by their parent or caregiver, is estimated to account for 18 to 25% of family homicide cases in Australia. Filicide often involves multiple victims and has a devastating effect on both families and communities. Despite this, comparatively little is known about it.
In Australia, estimates suggest that 25 children are killed every year by a parent or caregiver. Children aged less than one year are at greatest risk.
Because of differences in jurisdictions around reporting and legislation, child deaths are recorded and analysed individually by states and territories. National publications that analyse police data are limited, and only report aggregate data.
This broad approach precludes any in-depth analysis of risk factors and circumstances around individual cases, resulting in a somewhat piecemeal understanding of child-abuse-related fatalities.
Understanding filicide is particularly difficult because it is uncommon. However, given the impact it has on communities, it is necessary to examine some converging risk factors to understand where individual and situational factors combine to increase the risk.
Risk factors
Existing research indicates mental illness, previous abuse, and domestic violence are risk factors for filicide.
Understanding filicide has generally focused on motive, perpetrator gender, or the biological relationship with the victim.
Combining these factors may develop a more nuanced perspective of filicide. This is particularly important given the diversity of families in contemporary Australia. Separation, divorce and other complex living arrangements for children have broadened the concept of families, making a more detailed approach warranted.
Further reading: How we live now: Australian families at a glance
Focusing on family relationships to identify risk
Our research aimed to identify similarities and differences between cases of filicide according to victim-perpetrator relationship.
From the National Coronial Information System, we identified 118 child victims, nine adult victims and 26 suicides involving 97 perpetrators. Information about the circumstances surrounding the cases was obtained from autopsy reports, toxicology reports, police reports, Supreme Court judgements, and media reports.
We identified five main victim-perpetrator relationships at the time of the incident. There were too few cases involving a de facto female, separated mother, and single father to include in our analysis.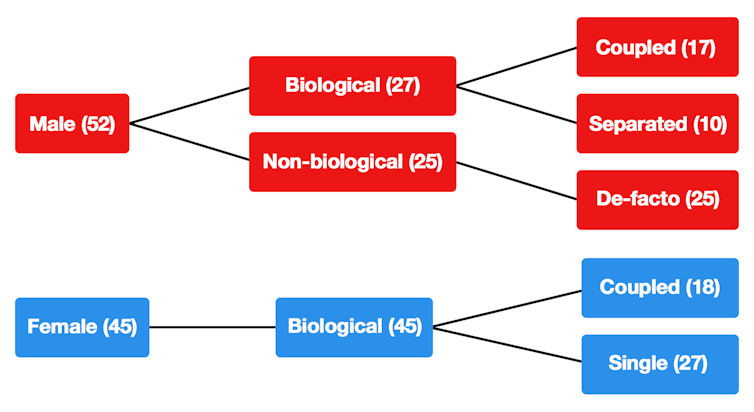 Authors: Lillian De Bortoli, Research Fellow, Centre for Forensic Behavioural Science, Swinburne University of Technology
Read more http://theconversation.com/understanding-the-triggers-for-filicide-will-help-prevent-it-86333