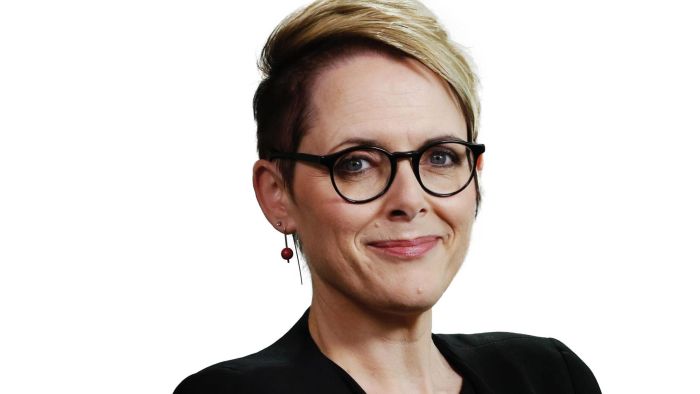 SABRA LANE: Prime Minister, welcome to AM.  
PRIME MINISTER: G'day, Sabra.  
LANE: You've acknowledged many Australians are frustrated with the Government, and that perhaps you raised hopes for a summer that were dashed. But you're appear unwilling to say that you're sorry. Why is sorry the hardest word for you to say?  
PRIME MINISTER: Well, I remember in the vaccine rollout, we, I said exactly that. I said, but, and I said that and and then said, we've got to get on and fix it, and that's what we did. And that's one of the, one of the things I referred to yesterday when I said we didn't get everything right. I mean, if, I think if we'd had the Sir General Frewen's operation there from the start, I think that would have made a big difference. Now, I remember the day I made the decision to call him in because we were having those frustrations, and it did make a big difference. And I said last year that we'd hoped to have everyone being able to be offered that vaccine by October. And we ended up achieving that by about, I think it was about the 23rd, 25th of October. So despite all those challenges, we were able to turn it around, and that was really my point yesterday. You learn lessons along the way, you work problems, you fix them. That's what happens in a pandemic. We're all sorry about the how the pandemic's impact on our livelihoods and our lives, and it's happened all over the world. No country's got everything right, and Australia has got more of it right than most countries, and that's demonstrated by having saved 40,000 lives, one of the strongest economies in the advanced world, and one of the highest vaccination rates in the world. So on the, on those big ticket items, Australia's performed very well.  
LANE: Former Premier Peter Beattie made an art form of saying sorry, and voters seem to really value that and reward him for it with re-election. Are you worried that voters might punish you for not saying sorry?  
PRIME MINISTER: I think I've been very honest with people. I was very honest with them yesterday where I thought the lessons were …  
LANE: Sorry, usually usually when people do take responsibility for a problem, they say sorry.  
PRIME MINISTER: Well, what I think's important is the experience that you get from working through those challenges. That is what helps people actually work through the next set of challenges. And that's what I was explaining yesterday. Of course, nobody gets everything right, and I don't think anybody expects everything to go perfectly for any government. And I think it's an unrealistic expectation, as people would expect. And, so, look, I'm just getting on with the job. And, of course, as a Government, we're sorry for, you know, the impacts of the pandemic on everybody's lives and livelihoods. I mean, in particular as we went into that summer, yes, we were optimistic. The vaccines that we'd all, all Australians have worked hard on to get done over that course of the year were meant to protect us. And then Omicron came along and completely turned that on its head, and no country picked that, no country at all.  
LANE: Current current polling has Labor leading the Coalition 56 to 44 per cent on a two-party preferred basis. Your personal figures have have slumped. How do you turn that around in 10 weeks?  
PRIME MINISTER: At the end of the day, the election will come and people will focus on that, and they'll focus on the choice they have to make. And there is a clear choice.  
LANE: And your record.  
PRIME MINISTER: There's me, there's me as Prime Minister and and the Liberal Nationals as a Government, that will see, we believe, unemployment go to having a three in front of it for the first time in 50 years, and the experience that we've developed in dealing with this pandemic, and there are many challenges still ahead. And economic management, national security, these issues and whether there kids can get a job, whether there businesses will be able to thrive with good strong economic management, keeping downward pressure on the cost of living, interest rates. All of this, which we're doing - getting apprentices into trade training, highest level that we've ever seen in recorded economic history in Australia. Or the alternative, which is Anthony Albanese and the Labor Party, and …  
LANE: But what about your record? Your record is also on the line.  
PRIME MINISTER: Well, exactly. And and that's a record of of job creation. It's a record of economic management. It's a record of having balanced the Budget before the pandemic hit, so we could respond in the way we have. A record of having the lowest, one of the lowest rates of fatality from COVID in the world. One of the strongest economies, a AAA credit rating that has been maintained - one of only nine countries to do so in the entire world - and one of the highest vaccination rates in the world. We've got people, and we've got young people in particular, who were kept in jobs through the pandemic, particularly the apprentices. So we haven't lost a generation of skills that would have otherwise gone through the pandemic. We've got record levels of funding into education and health. In particular yesterday, I highlighted that our mental health response to the pandemic was one of the, if not the, strongest in the world. A billion dollars invested, and while we had surging demand for mental health support services, the investments we made saved lives. Every life lost by suicide is a terrible tragedy. Unthinkable, unspeakable. But every live lost, every life saved, is a blessing. And the death by suicide rate during the pandemic actually fell. So Australians have achieved quite remarkable things over this pandemic, and at the same time, we've been keeping Australians safe in our region, and you know very well, and your listeners know very well, the great uncertainty that is occurring in our region. And we've stood up, we've stood up to those who threaten our interests.  
LANE: Sorry Prime Minister, we've got a few subjects, we've got a few subjects to get on with.  
PRIME MINISTER: Oh, you asked me why they would like to support me at the election Sabra, I was very happy to answer the question.  
LANE: Ok, well, let's talk about the bonus payments - $800 for aged care workers. They've been welcomed by many, but many in the sector say that's just not enough. The starting wage is about $800 a week. Why don't they deserve a permanent boost?  
PRIME MINISTER: Well, that is being dealt with by the Fair Work Commission, and that's the appropriate place for that to be determined. But what we announced yesterday …  
LANE: But the Government's, the Government's not intervening there. Why can't the Government actually bring itself to say that these workers deserve more?  
PRIME MINISTER: Well, we have a process for setting wages. And what we've and that is being done through the Fair Work Commission, and where we intervene is what we announced yesterday. And it's not the first time we did it, and we did it earlier on in the pandemic. And I remember when we did that, the same union leaders criticising us now were the ones who, when we did it the first time, said it was a very good initiative. So I think people can see through that. Our challenge right now, though, Sabra, is to ensure that we're providing that extra support to keep people there in these aged care facilities, because the workforce challenges in those facilities in the pandemic is very stressed. And that's what we need to do right now in this pandemic, and that is what we are doing.  
LANE: If you're hoping for an unemployment rate with a three in front of it, if that happens, thousands of jobs might become available and aged care workers might simply just walk away from the sector to a job where they can earn the same pay without all the stress of trying to care for people with COVID. We heard on AM yesterday people are leaving already. How confident are you that that bonus payment will stop that from happening?  
PRIME MINISTER: Well, the bonus payment is there to deal with the situation right now. The longer term issue is being addressed by the Fair Work Commission. And I'm sure that the very issues you've raised are the ones that they'll be carefully considering.  
LANE: The sector is buckling. BaptistCare says it can't push through, that workers must receive fair and competitive compensation for the critical work they do, and endlessly isolating residents in their rooms and preventing visits from friends and family is not sustainable. It wrote an open letter to you about this last week. How do you respond?  
PRIME MINISTER: Well, that that help has been coming, and it'll continue to flow. It's incredibly tough in the aged care sector, aged care sector during this pandemic, and the support we've provided - some eight million rapid antigen tests, that's going back to to August. The support we're providing through PPE equipment, additional the training that's been put in place, the wage subsidies, support for vaccinations. Ninety-nine per cent of those aged care facilities, the priority, have been visited, and we've been vaccinating both the workers and the residents at the same time. Seventy per cent of residents have taken up those vaccinations and have been vaccinated. But I'm not disputing the fact that it's really tough for the aged care sector providers. It's really tough for the staff. It's really tough for the the Government officials who are working with them every single day to try and give them as much support as we possibly can.  
LANE: What more? What more? You can't do anymore?  
PRIME MINISTER: Where more can be done, we will be doing it and finding that, working with the sector the way we always have. But during the course of this pandemic, again, while it doesn't soften the blow, I think the international comparisons are relevant. Right now, outbreaks in Canada in aged care facilities are 13 times higher than they are in Australia, and they have the same vaccination rate as us. In the United Kingdom, back when we go back to what happened during the very difficult days in Victoria, I mean, the rates of infection in UK aged care centres was eight times what it was in Australia, and that was before we had the vaccines. And while there was terrible loss of life here in Australia, we saved many, many, many lives by working together with the aged care sector. So I'm not denying it's tough. Pandemics are tough, they're really tough, and they've been toughest on those working in our health sector, and especially those in aged care.  
LANE: A text message from Gladys Berejiklian about you was read out at the National Press Club yesterday saying that you were a horrible, horrible person, and a Channel 10 reports that a Cabinet Minister apparently said that you were a psycho. Ms Berejiklian hasn't denied sending that text. She says she has no recollection. Will that harm you? It adds to the assessments of you like that given by the French President.  
PRIME MINISTER: Anonymous sledging that neither of us know anything about, as Gladys herself has said. That's certainly not been my experience with the former Premier …  
LANE: She she hasn't denied sending the text.  
PRIME MINISTER: There's, that's not my experience with the former Premier. It's certainly not been the subject of any discussions that we've had, and we worked very closely together through the pandemic, through many other challenges - restoring the New South Wales economy. We did work closely together. So, you know, I can't speak to it really because I don't know anything about it, and Gladys doesn't know anything about it. And those who are raising it, well, there's frankly a lot of questions being asked of them at the moment.  
LANE: How confident are you of re-election?  
PRIME MINISTER: I'm confident in the Australian people making good judgements about their future and understanding the consequences of this next election. And as we get closer to that election, they'll weigh it up and they know there's a choice. It's not a referendum. It's a choice between two alternatives -  a Government that has shown the experience and has shown the record on the economy to keep it strong and keep Australians safe, and working hard, particularly in regional Australia, and not selling them out. You won't hear me saying one thing about the coal industry up in Queensland and another thing about the coal industry in the inner city suburbs of Sydney and Melbourne. And but that's what you hear from Anthony Albanese. He just tells everybody what they want to hear and has an each way bet on everything, and you can't have an each way bet on Australia's economic future and our national security.  
LANE: Prime Minister, thanks for talking to AM this morning.  
PRIME MINISTER: Thanks a lot, Sabra.
LANE: The Prime Minister Scott Morrison.