Written by

Scott Morrison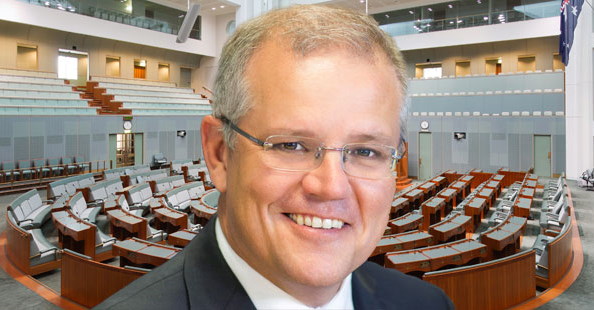 PRIME MINISTER: Well, it is great to be back in the party room, the joint party room. It's great to have everybody back here. It's great to officially welcome Garth who joins us. Welcome, Garth, and to everyone giving him such a great welcome and we look forward to a great contribution from your Parliamentary career and it was tremendous to have you sworn in last week and always good to see a new colleague here. So congratulations.
Colleagues, this year has been like no other. Of course, for all of us, but more importantly and most significantly, for Australians all around the country. Their experiences have been different. But the one thing that has been constant, has been a trial for them. It has been hard and over the course of this year, Australians have probably looked to, and relied upon the strength and stability and unity of their Government, more so than they have for many generations. They posed that question to us when this hit, and they looked to us to stand by them and see them through what for many has been the hardest year of their lives. 
And as I have moved around and as you have moved around in your community, their answer and response to us has been; you have. But our response to them is simply to say thank you, because we know that the great strength of Australia is in its people and we know that the response that we have provided this year has not been about us. It's been about them. It's been about supporting them in their plans, in their resilience and what they were seeking to do to keep their businesses together, their families together, their communities together, their lives together. And they had a plan for doing that and we backed those plans in. And despite the challenges of this year, I believe Australia is stronger today than it was a year ago. And I believe Australia will be stronger again next year. Because Australians have been tried and Australians have passed the test and we have played our role in supporting them in that great challenge this year. 
But it's not over yet. It's a long way from over yet. Of course, the comeback has begun, but the recovery has still quite a journey ahead of us. And so, colleagues, what you have done to enable the Government, to be that certainty for Australians in a time of great uncertainty, I don't want you to underestimate. The support that you have provided to me and to Michael and to Josh as we have brought our Cabinet together and our ministry and our executive together and brought all of you together, brought the states and territories together, brought industry, brought employers, employees, representatives and others together. The support that you have provided to me, in particular, I'm deeply grateful for. You have enabled this Government to be what it absolutely had to be for Australians this year and we must continue. We must continue, as we have this year, as we move into next year. 
That stability, that unity of purpose, the selflessness of government, that is incredibly important. The humility of government is one that looks at what the needs of our community are, not what our interests are. And that is a mark of our Government as well as being an ambition of our Government at the same time and that's what we must continue to strive to meet as we go into next year, thinking of always why we are here. It's never about us. It's always about those we have come here to serve. 
When you gave me the great honour within the Liberal Party, and then joining together in a Coalition with the Nationals, I said we would bring that stability back. And Australians have seen that happen, and we will continue it. 
I said that we would keep our economy strong and in the face of the biggest economic challenge we've seen since the Great Depression, that resilience, as Josh has often reminded us, has been proven. We didn't react to the calls after the last election when there were those who said that we need to unleash the storehouses, if you like. Because we knew that you always had to be ready for when a real crisis came. Had we yielded to that, Australia could not have faced that storm in the way that we did. And you all showed great strength through that period of time. We held off. Certainly there were needs, but we knew Australia had to be in the strongest position possible. And thankfully, we showed that resilience because as we had to stand and then deliver the greatest level of income support to this country we have ever seen, to provide a lifeline for livelihoods and lives, we were able to meet that task. 
Our economy has strengthened. It has emerged, I believe, more resilient. I said we would keep Australians safe. And despite the many challenges that we've had on COVID, Australia now on health terms, stands amongst a very small handful of nations, as the resilience of our health systems. 
As well as continuing to address the very serious threats that this country faces, whether it's those threats to our children online and those who would prey on them, or to the broader strategic threats that our nation faces. And we have stood firm together and resilient.
But most importantly, colleagues. I said we would keep Australians together. We are together as a team, and I believe we are together as a nation. 
Australians have cleaved to each other this year. They have shown tremendous acts of kindness and sacrifice and devotion. And so as we come to the conclusion of this parliamentary year, let us think of all those Australians who quietly go about their daily lives, who quietly go about running their businesses and are thankful they still have one. They are thankful that those employees who are, I believe, often, if not their greatest joy in running their own business, to see someone who was given a livelihood by the work of their hands. What a great thing that is. What a great thing that is. That's what our policies support - employees, employers together creating enterprise that create livelihoods and choices for Australians. That sits at the heart of our Liberal and National ethos. 
So let's take that, stronger, safer together into the New Year. It will carry us into the plans as we roll them out for the recovery as it continues. And there'll be no shortage of challenges next year. The challenges of aged care - significant, but we will meet them. The challenges of our region and our, and the international uncertainties that are out there, the challenges of rolling out vaccines, the challenges of regional Australia, the challenges of ensuring that we get young people into jobs, in particular, that the skills training reforms are realised, that the heavy industries that sit around in our country get the energy they need to continue to be viable and create those jobs and the livelihoods they have sustained for generations. 
That's the certainty a Liberal-National government provides at a time of great uncertainty. And all of you have played an extraordinary role in achieving that this year.
Here's to a Happy New Year.