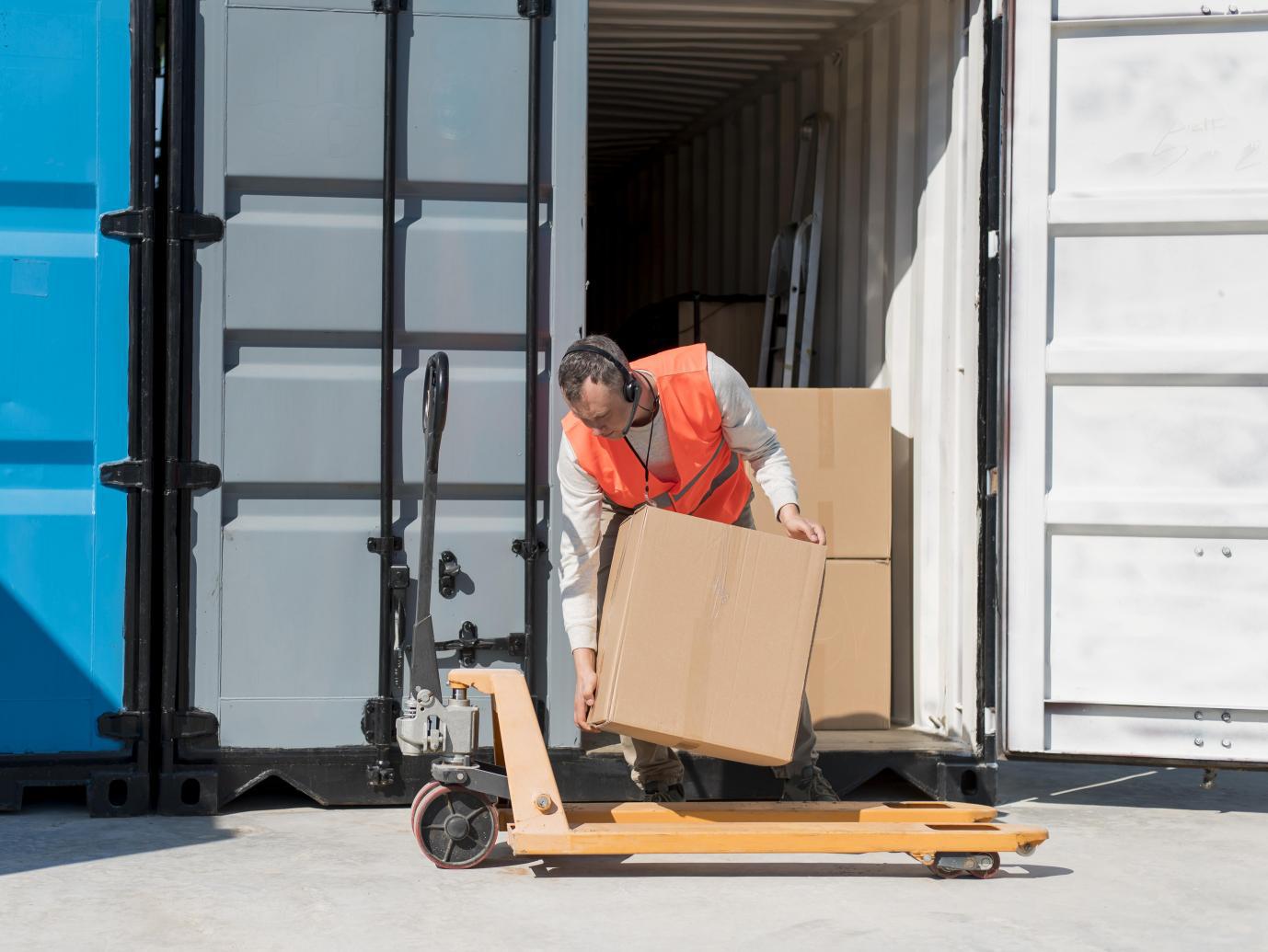 Do you need to move pallets around your operation? If so, at least one pallet jack is standard equipment. When it comes to buying a new machine however, you may wonder whether you should choose a manual, hand pallet jack, or an electric version. You don't want to spend more money than you need.
Since pallet jacks are available in many different configurations, both in the manual and electric options, we'll look at various configurations, as well as the pros and cons of choosing manual or electric.
Firstly however, consider your applications: what do you need a pallet jack to do?
Choosing a pallet jack: assess your needs
In addition to deciding whether to purchase a hand or an electric pallet jack, also consider:
* The size of your factory or warehouse—how far, and how often do you need to move loads? How many staff will operate the machine?

* Weight: how heavy are the pallets you need to move? The load capacity of your pallet jack is a vital consideration.

* Measurements: measure your pallets, to ensure your pallet jack's forks are long enough, and not too long.

* Your operating area. Pallet jacks vary in size. If your operation has narrow aisles (measure them), and little room to manoeuvre, you need a pallet jack which suits your operation.
Let's look at configurations for manual,
Manual hand pallet jack configurations can include a weighing scale
A hand pallet jack suits smaller operations, with lighter loads. It has a steering handle or tiller, which operates the machine's hydraulic pump—the pump moves the pallet jack's forks up and down to lift a pallet. A large wheel under the steering handle operates the machine. The forks have small wheels.
One popular configuration includes the ability to weigh pallets when they're loaded onto the pallet jack. If this is useful for your factory or warehouse, look for an option with a weighing scale. The scales are battery operated with a digital readout and may include a printer.
If your operation handles pallets of different sizes, you need an adjustable pallet jack with forks which can be adjusted to the size of your pallets.
Do you need a pallet jack for packaging supplies at your worksites ? Look for an all-terrain pallet jack. These types of machines have larger wheels than standard models—they can safely move loads on uneven surfaces, without any danger of pallets slipping off the jack.
Finally, if you need a pallet jack for a cramped environment, a mini version may be perfect.
Electric pallet jacks are available in various styles too.
Electric pallet jack configurations: many different types are available
For larger operations, electric pallet jacks can safely move heavier pallets, with less strain on operators. However, operators do need training. Electric pallet jacks are available in many different configurations, in varying types which are suitable for heavy use in any environment.
Although powered pallet jacks operate similarly to manual versions, they don't require a hydraulic pump—an electric motor powers the forks. These types of machines have batteries, so they need to be recharged regularly.
If you need to shift heavier loads onto high shelves, consider a walkie stacker pallet jack—check a machine's load capacity before you purchase.
Walkie stackers are also available in counter-balance versions, suitable for stacking loads onto high shelving. These big, heavy machines have a mast which raises pallets onto shelving, or onto trucks.
The counter-balance pallet jacks are available in many different configurations, suitable for lifting the heaviest loads to varying heights. They're also available in all-terrain versions, suitable for worksites.
Need to shift loads in a large warehouse? Consider a rider pallet jack. This large machine can shift heavy loads, and offers a platform on which the operator stands as he operates the machine.
Choosing the best type of pallet jack for your applications can be confusing, so let's look at the basic pros and cons of manual and electric machines.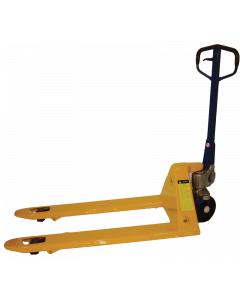 Manual, hand pallet jacks: advantages and disadvantages
A manual pallet jack has many advantages:
* Low cost, and easy to use, with less training needed for operators. (However, do offer some training in appropriate safety.)

* Easy to maintain and to service.

* Flexible. You can choose the configuration and machine size which best suits your operation.
However, manual machines have disadvantages too:
* Smaller load capacity than powered machines.

* Fewer options.

* Relatively slow in operation: they require more time to shift loads than an electric machine.

* Operators can develop injuries over time, because of the repetitive nature of transporting pallets.
Let's look at electric pallet jacks.
Electric pallet jacks: advantages and disadvantages
The advantages of an electric pallet jack:
* Ability to shift heavier pallets over greater distances, and more quickly, than a manual machine.

* Available in many more configurations, from basic to heavy duty machines which can move loads of any size in an operation, both indoors and out.

* Less chance of operator injury, after training on a machine.
But what about the disadvantages?
They include:
* Expense. Electric pallet jacks are not only more expensive to buy, they also need more tending and servicing than manual machines: batteries must be recharged.

* All operators need training on the machine for safe operation.
Manual or electric, you're sure to find the best pallet jack for your applications
With so many configurations available in both manual and electric machines, you'll easily find the best machine for you. A pallet jack saves time and energy, whatever your needs.
Still unsure? Suppliers will advise you on the best configuration and type for you.