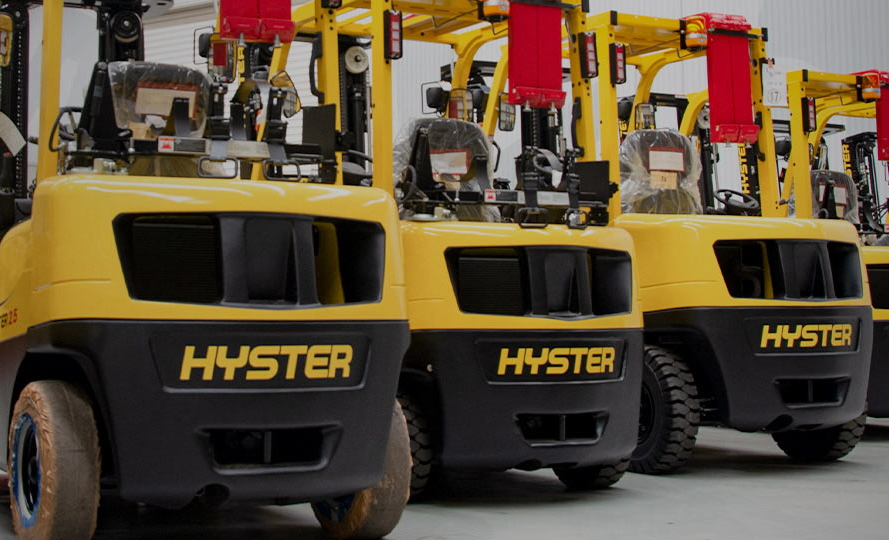 Virtually all employers understand the importance of retaining good staff. But how many apply this same logic to maintaining heavy-duty machinery like their forklifts? Unfortunately, not quite enough.
According to a report by Aberdeen Research, 82 percent of companies have experienced unplanned downtime in the last three years, and the total cost of that downtime for a company can be as high as $260.00 per hour!1
That's why, in order to reduce the risk of unplanned downtime and the associated costs, then preventive maintenance is a must. This is especially true for forklifts, as they're required to carry heavy loads on a daily basis, placing them under significant mechanical stress.
But how often should your forklifts be serviced? And what exactly does each service entail?
First, let's see what the Australian Standard has to say…


What the Australian Standard says about forklift maintenance
According to the Australian Standard for forklift trucks (AS 2359.1 Powered Industrial Trucks), it's recommended that you service each forklift: at least once every six months, or every 250 operating hours (whichever comes first).
On top of this, forklifts must only be inspected, maintained, and repaired by a trained, qualified forklift technician.
These are just some of the many criteria the Australian Standard outlines. For more information, refer to the official document here.


Factors to consider when planning a forklift maintenance schedule
In some cases, an industrial forklift may require more or less frequent service visits than the recommended six month or 250 hours interval.
Any licensee technician is aware not all forklifts are equal. That's why, when you first consult a technician, they'll take into account the following factors to determine how often your fleet should be serviced:


Age, make, and model of forklift(s) – the maintenance requirements of an older forklift will differ to a newer model. For instance, a forklift that has been in operation for 600 hours will require a service to its hydraulic system, while a forklift in operation for just 200 hours will be easier and cheaper to maintain.

Current service history – if your forklift has a poor or incomplete service history, the risk of failure or breakdown may be higher. Therefore, it'll need to be serviced ASAP, to ensure the parts and components are in correct working order.

Application type – forklifts that perform more labour-intensive tasks are at a greater risk of failure.

Working environment – extreme temperature, dust, and humidity can accelerate the wear-and-tear of industrial forklifts. This is especially true when it comes to the build-up of rust and corrosion.


How a qualified lift technician will help keep your business running
Forklift technicians are specialists when it comes to the service, repair, and maintenance of industrial forklifts. They'll work closely with you to help get the most out of your investment, and keep the cost of ownership as low as possible.
How so?
For starters, these technicians have experience servicing a wide range of forklift models. No matter the make or model of your fleet, a reputable technician will have the skills, tools, and knowledge to assess and repair your specific vehicles back to proper working order. It is always import to ensure that your equipment is only operated by licensed drivers. If they are not, then get in touch with people like forklift license toowoomba.

Secondly, qualified forklift technicians follow the highest industry standards and manufacturer instructions. What does this mean for you? That you can relax knowing your forklifts will be consistently reliable and safe to use for the long term.
Thirdly, any replacement parts you get from a licensed technician is guaranteed to meet industry standards and be fit for purpose. They will also have almost-instance access to replacement parts for a variety of makes and models. So, you won't have to wait very long – if at all – to have your forklift parts and components replaced.
Finally, you'll have a full service history with each maintenance visit. This means, you'll know exactly what maintenance tasks have been carried out, when, and what parts have been serviced or replaced. This way, your forklifts will be given the correct type of service at each stage of its service life – without the risk of duplicate tasks being carried out.


Plan head
While it may not be possible to reach zero downtime, by having a routine maintenance plan for your forklifts, you can greatly reduce the risk of unplanned downtime and its associated costs.
Plus, with a trusted lift technician only a phone call away, they can get your fleet back in working order sooner rather than later! And isn't that peace of mind worth the price of admission alone?