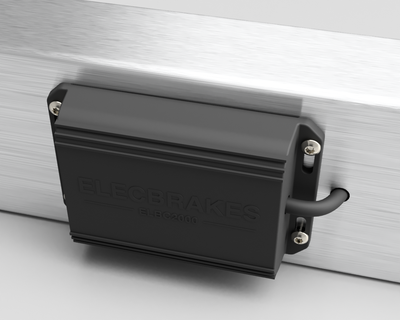 News: Australia's first Bluetooth wireless electric brake controller
In an Australian first, Central Coast local Craig de Leon has developed Elecbrakes, an electronic brake controller that is revolutionising the towing process. The device is ADR compliant and is mounted onto the trailer eliminating the need for hardwiring the tow vehicle.  The driver can easily control the brake response with their smartphone devices through the Elecbrakes app.
Unlike traditional electronic brakes, the self-taught product developer's wireless Elecbrakes system is designed to be fitted to the tow vehicle rather than the car. De Leon explains, "The Elecbrakes system is designed to be installed on a trailer and does not require any modification to the tow vehicle. This ensures any vehicle bigger enough to tow a trailer can sync wirelessly to the Elecbrakes device."
The system is ideal for caravan-owning families with multiple cars, councils, trailer manufacturers, people towing horse floats, and hire companies. In fact, Hunter-based caravan owners when hiring out their vans via Newcastle business Camplify (now Australia's largest caravan sharing platform) found that many holidaymakers did not have electric brakes fitted to their cars and could not pursue a caravan holiday.  
The Elecbrakes app is downloadable through any smartphone device and uses the widely adopted Bluetooth 4.0 standard to sync with the unit, which also yields Bluetooth software with long-range capabilities to ensure a highly reliable connection. It employs a high-speed microprocessor and various sensors to continuously sample various operating parameters at over 1000 times per second.
Through Elecbrakes, the driver can communicate with the trailer through a Bluetooth 4.0 system facilitating two-way communication system and ensuring user safety and improved brake response. The Elecbrakes app is available for any smartphone device to allow the user to monitor, change settings and control the trailer's brakes with a large central button for manual brake operation.
De Lore explains, "using the Bluetooth 4.0 system eliminates the need for any further mechanical modifications to the car and places control in the hand of the driver without any extra remotes."
Growing up in Western Sydney, de Leon developed a particular interest and curiosity in machinery. He utilised his father's machine shop as a playground for his ideas and developed a knack for designing unique products. Continuing his interest in design, Craig pursued a career as a product developer and later ventured out on his own to develop alternative brake controllers.
With an interest in trailers and caravans, Craig noticed a huge gap in the market for safe and reliable brake systems. He began to look for an alternative solution after noting the original process of mechanically fitting a brake system to a car was too costly and mechanically invasive. He sort to develop a unit that provided a flexible and safer solution to the towing process.
The Elecbrakes' ground-breaking software is ADR compliant and has a built in memory system to store all previous brake preferences, allowing any operator assess to set preferences. It is powered via the tail lights, with a second input provided if the user prefers an auxiliary power source.
Retailing for $649 with no additional costs, for more information on Elecbrakes visit
www.elecbrakes.com
.