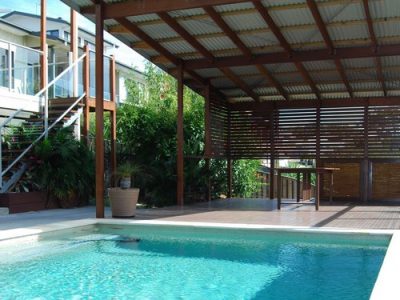 A patio is an outdoor space in your home that you use as for outdoor sitting, dining, or recreation. It can either be attached to the main house or detached, and it doesn't have to be surrounded by walls. So, you have that perfect patio for your home and decide to hold a garden barbeque event with your family or friends on one weekend, but then the weatherman reports upcoming showers. Well, that is disappointing since you may have to call off the barbeque.
However, you can avoid disappointment by installing a patio roof covering the whole part of your patio. That way, you don't have to worry about rain, the scorching sun, or bright sunny skies preventing you from relaxing on your patio. Here are some other reasons why you need patio roofing.
Prevent weather damage
A patio roof protects your entire patio setting from weather damage and especially the scorching sun. With time, the sun will cause your patio furniture to peel and flake, and you will need to go back and shop for new ones. Patio roofing comes in handy to protect your patio as it reflects the sun rays away from it. It also protects against any other weather damages such as rain and hail to keep your patio furniture looking as good as new.
For more accessibility
Patio roofing makes it easy to hold a barbeque even when it is raining or a very hot day. If you don't have a patio roof, you can say goodbye to outdoor activities if it happens to rain. With a patio roof, you can increase the amount of time you spend outside relaxing, especially during summer. You don't have to worry about sunburn because your patio is shady. Even when the rain is falling, you can still sit outside and watch as the raindrops water the ground.
Increase your home's value
Installing a patio roof significantly increases the value of your home. It guarantees you more profit should you resell your home. Many home buyers love the idea of spending time with their families or guests, so they will be interested in buying a home with patio roofing. Many of them will find the patio very interesting, especially if you point out the memories you have made with your family there. Patio roofing is a significant investment in your home.
For elegance
Patio roofing makes your home the envy of the neighbors and your guests. Aesthetics are essential for any home, especially if you hope to resell the home in the future. The right patio cover adds a touch of elegance to an otherwise dull environment. You can blend the roof type with the existing house design and materials or elegantly offset the outside location with a different style for a contrasting effect.
More space
A roofed patio creates more space for your home. You can insulate the patio to make it a kid's play area, design a small home office, store some items, etc. When you install a patio roof, you multiply the functionality of the space. You can even make it an entertainment area by adding an mp3 player, tv, or gaming console.
The bottom line
Patio roofing allows you to enjoy nature with comfort, adds elegance to your home while increasing its value.