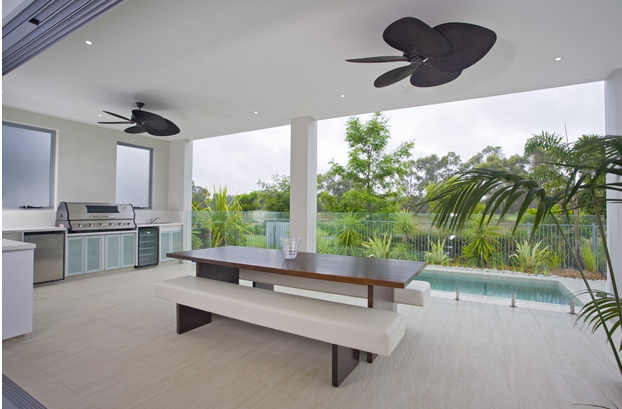 A well designed outdoor entertaining area can be a great investment for those who do a lot of entertaining. You can really turn your home into a go-to destination for get-togethers between you, your family and your friends. Your patio can add a lot of functionality and value to your home. Here are some ideas for your new patio design.
Invest in some quality furniture

Most outdoor events usually involve sitting on uncomfortable furniture. If you plan on hosting a lot of events you should invest in outdoor furniture that is made for lounging. Not only will it look great but it will also be comfortable. When choosing seating try to purchase seating with cushioning. For extra comfort, an outdoor lounge can be a great addition to your patio. To match your seating you can purchase side tables, bar tables, footstools and a dining table that seats as many people as your outdoor entertaining area can accommodate.
You will be amazed at the difference some high-quality furniture will make.


Add some outdoor heating
There is no use spending a lot of money renovating your patio only to use it in the summer. Your outdoor entertaining area shouldn't just be reserved for the warmer months. The weather can be unpredictable. You wouldn't want a cold day to ruin your party. To get the most functionality of your outdoor space you can add an outdoor heater or outdoor fireplace. 
You can further insulate your patio by adding outdoor PVC blinds around the perimeter of your outdoor area to prevent wind and rain from dampening the mood at your party.


Add an outdoor fan
Just like your patio can get cold it can get hot just as easily. A lot of people means a lot of body heat. Combine that with your BBQ and your patio can get hot fast. Add an outdoor fan to circulate the air and stop you and your guests from becoming uncomfortable.

Add an outdoor kitchen 
A party isn't a party without food. An outdoor kitchen offers so much more functionality than a simple BBQ. An outdoor kitchen will look great and will allow you to do all of your food prep outdoors, meaning that you won't need to be taken away from the party to prepare food. Add a bar fridge and an outdoor sink and your kitchen will be complete. 
For an added luxury you can even add an outdoor fireplace for a unique focal point in your backyard.


Don't forget the lighting 
Your outdoor entertaining area should be functional regardless of the time of day. Afterall many parties occur at night. For some ambient lighting, you can add some fairy or string lights. For a brighter source of light, you can use some overhead deck lights or wall-mounted lighting.

Add an outdoor bar
If you have enough space you should consider adding an outdoor bar to your backyard. An outdoor bar will make your home the ultimate destination for gathering and get-togethers. By having an outdoor bar you will have the freedom to sit by the bar with friends within the comfort of your own home. Your outdoor bar does not have to be extravagant or expensive. Most bars can be made quite cheaply if you have the know-how. Add some bar stools to make your bar look authentic and stylish.

Add some bi-fold doors
Bring the outdoors in with some bi-fold doors. Bi-fold doors will allow you to open up the space in between your home and your outdoor area. By combining your kitchen and your outdoor area you can increase your entertaining space and your home will also look larger and will appear to be extended. Of course, this will depend on the design of your home but most homes should be able to accommodate a combined kitchen and outdoor living area.

Try some of these ideas in your outdoor entertaining area and see the difference that it makes to your home.