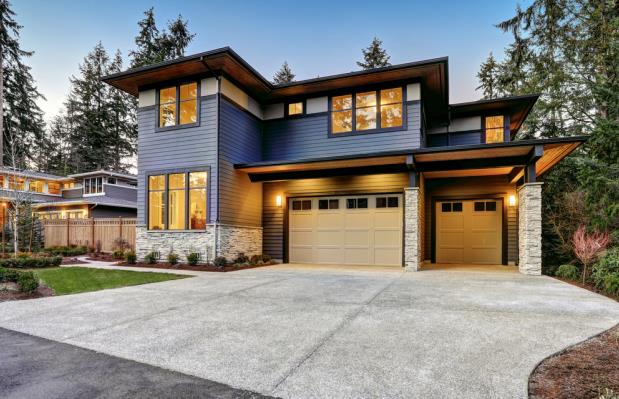 Looking for the best way to give your home a makeover? If so, you are not alone. Most homeowners struggle to maintain their home's exterior in mint condition.  Even the most beautiful new home will deteriorate with age and exposure to the elements and you have to find new ideas to modernize your home's exterior.
In this article, you will find some creative suggestions to give your home exterior décor a new lease of life. Keep reading.  


1. Replace the Garage Door
The garage is one of the most important structures in any home but most homeowners overlook it. Experts say that a garage increases your home's value in addition to playing other roles. With time, the once gleaming garage door becomes an eyesore due to patched repairs and DIY paintwork. What most homeowners forget is that a garage door is a prominent feature of the exterior décor and if it looks bad, this will have an impact on the entire property.If ou are in Queensland, have at look at Garage doors Sunshine Coast.

You need to replace the old door with a better-looking fixture. There are several contractors that specialise in roller doors in Melbourne who can talk you through the styles and colours available. A new garage door is not only safer but instantly gives your home's façade a much-needed fix. It is an easy way to spice up your home's appearance.


2. Install Pavers
If you have a patio or an outdoor space which poses a challenge in decorating, it is time to think of pavers. You can find durable yet decorative pavers on the market to breathe new life into your outdoor space. If you have used poured concrete for your patio and the surrounding space, it is time to replace it with beautiful pavers which come in different colours, shapes, and sizes. You can choose custom pavers to blend easily with the rest of your home's exterior décor.


3. Invest in LED Outdoor Lighting
Your outdoor space should come alive at night. If you have a lot of space outside the house, you can spruce it up using innovative LED outdoor lights.  It is easy to find beautiful outdoor lighting fixtures on the market to suit your garden, patio, and veranda. Choose the position of the lights carefully to guarantee they have an impact on the rest of the décor.


4. Dress Up The Driveway
When thinking of your dream home, it is most likely that a beautiful driveway featured somewhere. However, most homeowners forget all about the driveway as long as it services the purpose. To improve curb appeal, you need to dress up the driveway by repairing any cracks and giving it another coat of asphalt. Paving stones and a decorative border of concrete can also go a long way in sprucing up the driveway and fixing your home's exterior façade.


5. Install The Best Exterior Finish
You can choose from different exterior wall finishes to give your home that much-needed makeover. These include painting, façade cladding, rendering, brickwork, veneers among others. The choice of exterior finish will depend on the final look you want, the extent of damage to the original brickwork or the purpose of the exterior finish. For instance, if you want an aesthetic touch to your exterior walls, wall cladding will work perfectly. For a more protective solution for the walls, rendering is the best finish.


6. Give The Roof A Makeover
One of the first things a visitor notices when they come to your home is the roof. A worn out roof is not only an eyesore but also poses a risk to the occupants and the structure.
You have multiple creative roof ideas that you can choose to give your home's exterior a breath of new life. From terracotta tiles, solar tiles, concrete tiles to metal roofs, there is no shortage of roofing ideas. Changing the shape of the roof is also a great idea to revamp the look of your home. Other great ideas include using a roller door to replace the broken panels, Solar panels Busselton, installing window shutters, updating your front door, adding an outdoor structure, landscaping among others.

Other great ideas include using a roller door to replace the broken panels, installing window shutters, updating your front door, adding an outdoor structure, landscaping among others.