Written by

NewsServices.com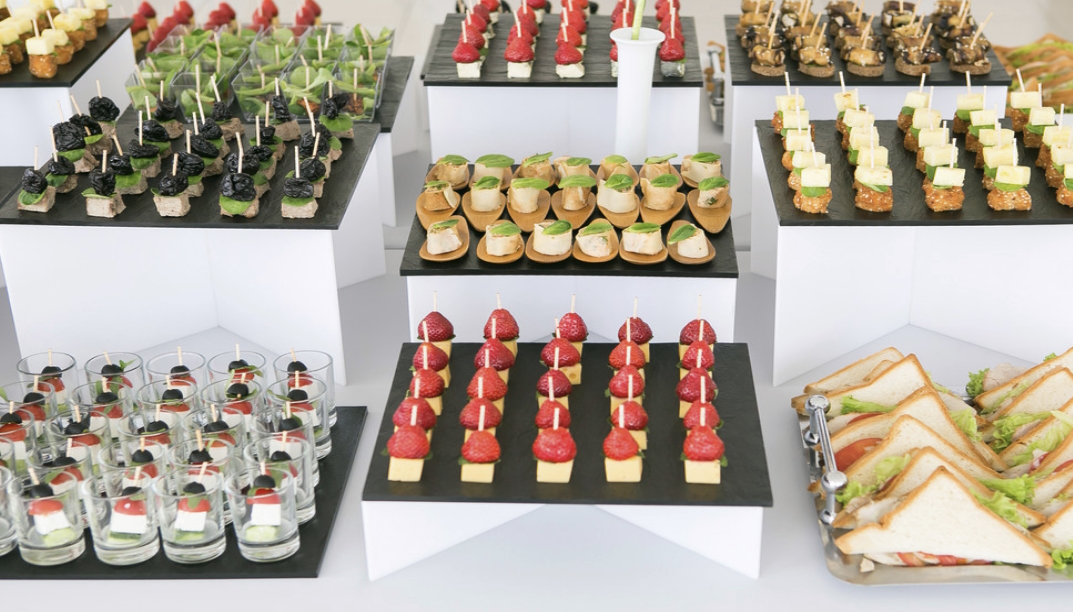 Benefits of Finger Foods for Wedding Receptions
Wedding receptions are a time to celebrate the union of two people, and the food is an important part of that celebration. Finger foods are a great way to provide guests with tasty treats without having to worry about cutting and serving large portions. Here are some of the benefits of finger foods for wedding receptions.
The first benefit is convenience. Finger foods require little preparation and can be easily served buffet-style or as passed hors d'oeuvres. This makes them perfect for weddings where there may not be enough staff or time to prepare a full meal for each guest. Guests can also help themselves instead of waiting in line at a buffet table, which creates an enjoyable atmosphere for everyone involved. Enquire wedding finger food at HLB Catering for your special occassion.
Finger foods also offer budget-friendly options for couples who want to serve gourmet dishes but don't want to break the bank doing it. Since they're smaller than regular meals, you can stretch your food budget by selecting more affordable ingredients like vegetables, fruits, and cheeses without sacrificing quality or taste. Additionally, because they don't require utensils or plates, finger food options reduce costs associated with purchasing serving items like plates and cutlery as well as rental fees associated with using larger pieces of equipment such as chafing dishes or crock pots.
Popular Finger Food Options for Weddings
When it comes to wedding receptions, the food served is essential for creating a memorable experience. Finger foods are a great way to make sure that guests are able to eat without having to leave the dance floor and can be a fun alternative to traditional plated dinners. Here are some popular finger food options for weddings that will ensure your reception is an enjoyable one:
Sliders:

Sliders, from mini burgers or pulled pork sandwiches to buffalo chicken sandwiches, are always a crowd-pleaser! They're easy for guests to eat on the go and can be customized with different toppings or fillings based on your preferences.
Mini Tacos:

Mini tacos can range from classic beef tacos to modern vegan varieties, making them perfect for all types of guests. Plus, they're easy for guests to grab and go while they mingle and dance!
Mini Quiches:

Quiches are classic hors d'oeuvres and can easily be made in mini sizes so they're easier for guests to enjoy while mingling. You could opt for classic quiche Lorraine or create something more creative like spinach artichoke quiche bites.
Tips to Consider When Planning the Menu
When planning a menu, the first thing to consider is the occasion. Is it a formal dinner? A casual family gathering? A birthday party for a particular person or group? Answering these questions will determine what kind of food should be served, how many courses are necessary, and other factors.
Consider your guests' dietary restrictions and preferences. If some of them are vegetarian or vegan, you may need to plan a few dishes that cater to their needs. If any of your guests have allergies or food intolerances, make sure to check with them in advance so that you can make appropriate adjustments for their safety.
When selecting the dishes for your menu, think about variety and balance. Try to include different flavors and textures as well as dishes from different parts of the world; this way everyone can find something they enjoy eating. Make sure there is an equal balance between salads, proteins (such as meat or fish), starches (such as potatoes or rice), vegetables/fruits, and desserts/sweets if they are part of the meal plan.
Conclusion
In conclusion, wedding reception finger foods are a great way to provide guests with delicious and convenient food options. Finger foods are easy to prepare, serve and clean up after, making them an ideal choice for many couples. With so many options available, there is sure to be something that appeals to everyone at the reception.