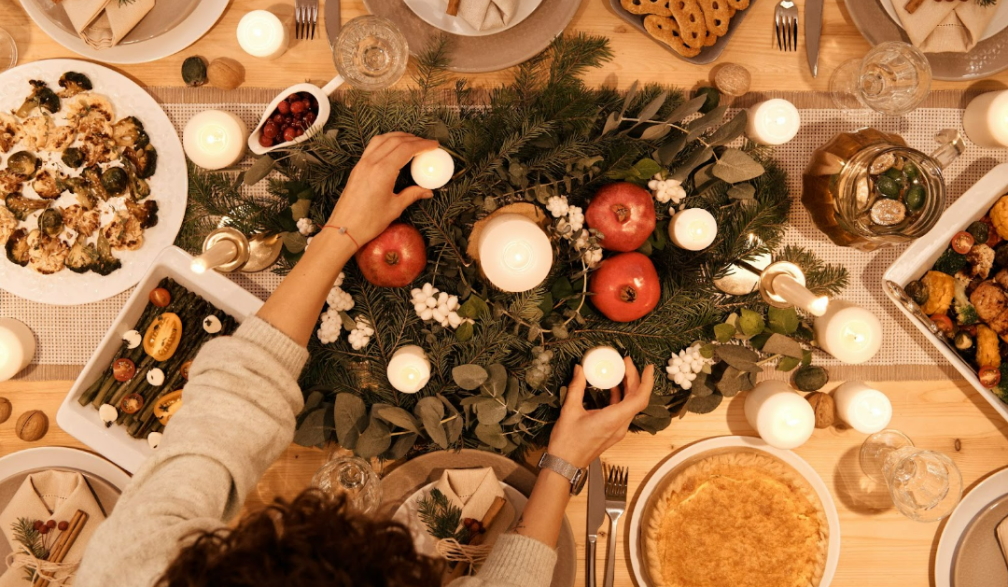 The holiday season is often a busy time, and it can be easy to get caught up in the flurry of activity. However, one tradition remains constant for many families – getting together for Christmas dinner. 
This annual gathering offers a chance to reconnect with loved ones and share in the spirit of the holiday season. It also provides an opportunity to embrace traditions that have been passed down through generations, creating a sense of family legacy and continuity.  
Christmas dinner is a time to bring friends and family together in cheer and celebration. However, all the preparation and cooking can often leave hosts feeling overwhelmed and stressed out. But hosting the ultimate Christmas dinner doesn't have to be a hassle with the following tips:

Set the Tone With Vibrant Holiday Decor
Whether it be a sparkly garland draped on the mantel or twinkling lights wrapped around the dining room table, these festive accents can make even the most basic dinner spread feel like an unforgettable event. 
But with the busy nature of the holidays, who has time to spend hours decorating? That's where smaller, statement-making pieces come in handy. A glittering centrepiece for the table or a wreath hung on the front door can instantly enhance your space without requiring too much effort. So don't stress about having everything perfect - let vibrant holiday decor do the talking and enjoy an effortlessly festive dinner celebration.

Start by Making a Menu Plan
Planning the perfect Christmas dinner can be a daunting task, but with a well-thought-out menu and proper time management, it doesn't have to be a stressful affair. Rather than trying to prepare everything from scratch, why not mix store-bought items with homemade dishes for added convenience and personal touch? 
Start by creating a list of what you want to serve, taking into account any dietary restrictions or preferences of your guests. Once your menu is set, make a grocery shopping list and make sure to give yourself enough time for defrosting any frozen foods. 
And lastly, plan out how long each dish will take to cook so you can properly schedule everything in the oven or on the stove. By following these tips, you can have an enjoyable and stress-free Christmas dinner that's sure to impress your guests.

Prep as Much of the Meal as Possible in Advance
The holiday season can be incredibly busy, and the last thing anyone wants is to spend hours in the kitchen on Christmas Day. One solution? Prep as much of your holiday meal in advance as possible. Not only does this save time on the big day, it can also help to reduce stress and free up valuable oven space. 
Dishes like mashed potatoes and vegetables can easily be cooked ahead of time and reheated just before serving. For extra convenience, many dishes like casseroles or pies can be frozen before the holidays and then thawed in time for the feast. And don't forget about appetisers or drinks - these can also be prepped ahead and ready to enjoy with minimal effort. 
So take a little bit of pressure off by preparing as much of your Christmas dinner in advance - you'll thank yourself later when you're able to truly sit back, relax, and enjoy the festivities.

Another Solution is to Opt for a Potluck Style Christmas Dinner
Christmas dinner is a time-honoured tradition, but it can also be incredibly stressful. Between cooking the perfect turkey, baking delightful desserts, and preparing myriad side dishes, it can feel like you're constantly running around in the kitchen. Why not opt for a potluck-style Christmas dinner instead? 
This way, everyone can take part in the meal preparation and contribute their own special dish. Not only will it make your holiday celebration less stressful, but it's also an opportunity to try new dishes and create unique flavour combinations. Of course, coordinating contributions from your guests can seem like a logistical nightmare. 
But with proper planning and communication, hosting a potluck-style Christmas dinner is definitely doable – and much more enjoyable for all involved. So this year, ditch the stress and opt for a BYO feast – the ultimate solution for a fuss-free Christmas dinner.

Delegate Tasks
Christmas dinner is often seen as a daunting task, with multiple dishes to prepare and family members to please. However, delegating tasks can make the whole process much easier and more enjoyable. Planning ahead is key - make a list of all the dishes you want to serve and assign each dish to a different person or group. 
This gives everyone ownership over their dish and allows for flexibility in the menu if someone is unable to contribute. In addition, delegation helps to spread out the workload so no one feels overwhelmed or bogged down by all the tasks. Asking others to bring their own appetisers or side dishes is also a great way to take some of the burdens off yourself while also allowing family members to showcase their own special recipes. 
With efficient delegation, you'll be able to spend more time enjoying Christmas dinner with your loved ones rather than stressing over every little detail.

Finally, Set the Table and Decorate With Christmas Cheer Before Guests Arrive
One way to cut down on last-minute stress is to set the table and decorate it with holiday cheer before your guests arrive. A twinkling centrepiece, festive placemats, and glimmering silverware can instantly transform any dining room into a winter wonderland. 
Plus, having everything set up before your guests arrive allows you to focus on more important tasks like preparing the food or making drinks. So this holiday season, why not take a little time beforehand to create a beautiful and inviting table setting for your Christmas feast? Your guests will certainly thank you for it.
These options allow for less stress and more time for socialising with your loved ones during this special holiday celebration. And remember, Christmas dinner is about enjoying time with friends and family, not spending hours slaving away in the kitchen. 
So don't hesitate to take shortcuts when necessary and use store-bought ingredients or pre-made dishes if it means less hassle for you as the host. With these tips in mind, gather your loved ones around and enjoy an easy, fuss-free Christmas dinner together.