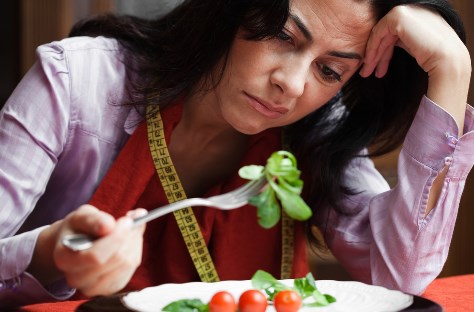 I'm not the most enthusiastic lettuce eater at the best of times, but there is something so utterly depressing about sitting in front of a cold salad in the middle of winter.
My recent weight loss efforts were dampened by the fact that it seemed as if everyone around me was stick thin and digging into a hot pie or steaming chips, whilst I faced a plate of food no self respecting rabbit would eat.
It was bad enough raising myself from my warm bed on those frosty mornings, but those salads became the final nail in the coffin of winter.  It was time for a little strategic thinking to keep my diet on track and my stomach contented.
Warm welcome
After doing a little online research I discovered that there are actually effective weight loss programs which allow you to eat healthy, weight-friendly foods which are thankfully, absolutely delicious!
These programs are not just about the food, they offer comprehensive advice, recipes, nutritional supplement shakes and step-by-step plans which can see you dropping kilos and inches every week–even over the miserably cold winter months.
I found having that their support and backing gave me the impetus to attain my goals and sustain my weight-loss. A year later and the kilos are long gone and staying that way.
Comfort foods
So what are some warm and wonderful foods which will keep the waistline trim and fill that gnawing hunger in the pit of your stomach? Protein-rich foods are ideal winter warmers as they build muscle, keep you feeling fuller for longer and many are low in calories.
Seafood
For those of us that love seafood, it is wonderful to know that it is an ideal inclusion in a weight loss regimen.
Best options are: oily fish such as salmon which contains omega-3 fatty acids, DHA and EPA or sardines, cod, calamari and herring.
Avoid: some fish are high in mercury and should be not be consumed. These include shark (known as flake in your local fish and chippery). Steer clear of farm raised fish which are raised on GMO or non-natural substances. Serve fish grilled, rather than battered and deep fried.
Nuts
While nuts have a reputation for their high fat content, they have many heath giving benefits and can maintain blood sugar levels; keeping you feeling fuller for longer. Studies also indicate nuts can be very beneficial to diabetics.
Best options include: pecans, almonds, walnuts and brazil nuts (eaten in moderation).
Avoid: nuts or nuts butters which have been roasted, salted or processed in anyway.
Meat
Lean meats are a wonderful winter warmer and their high protein content provides lasting satiety.
Best options include: (ideally organic) hormone-free chicken and turkey. If you are looking for something a little more exotic, consider either ostrich or pheasant.
Avoid: over consumption of red meat and processed deli meats; this includes ham, salami, bacon, frankfurters and manufactured meats.
Eggs
The protein found in eggs makes them muscle boosting, fat blasting powerhouses and they are a delicious addition to any weight loss diet.
Best options include: organic or free range eggs which have been ethically produced.
Avoid: Not only are battery eggs inhumane, they can be far less nutritious. New laws surrounding the humane production of eggs have seen many companies find loopholes to continue to mistreat chickens. Apps are now available which may be of assistance in identifying which eggs have been produced ethically.
Baby, it's cold outside…
Don't forget to maintain your activity levels, throughout the winter months. Not one for exercise even when the weather is inviting, the thought of trudging through the rain soaked streets in mid-winter was not very tempting. Here are a few tips to circumvent the problem and maintain your step count:
Join a local gym

Swim at a heated pool, followed by a sauna

Use exercise DVDs at home

Take up ice skating

Invest in thermal underwear and an iPod (or similar) to make walking enjoyable
For those who, like me, hate exercising in winter, take heart–researchers have found that exercising in cold weather is actually beneficial to your health and heart. Even shivering can help with weight loss, as it burns calories!
If you are struggling to maintain your weight loss goals through the colder winter months remember, spring is just around the corner and following that is bikini season! By keeping your goals firmly in your sights you can sustain your weight loss and be ready to strut yourself when the warmer weather arrives.