Written by

Georgie Quigley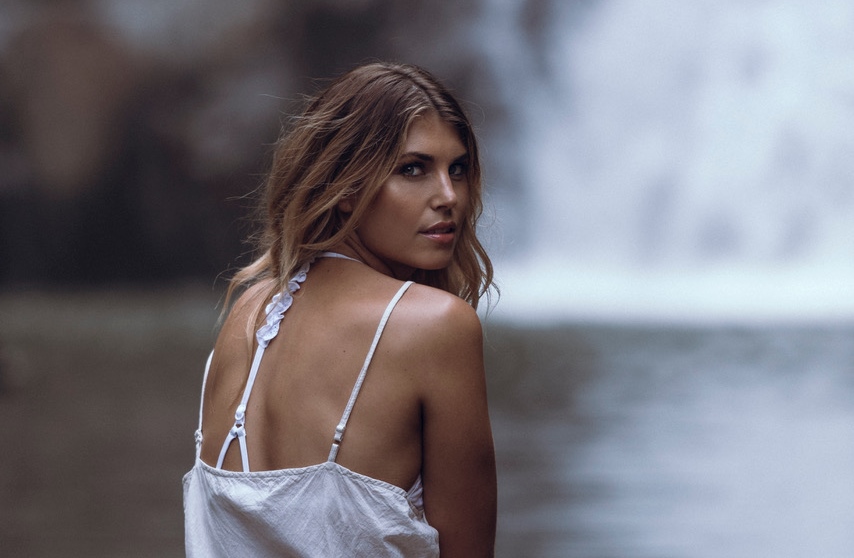 GOLDEN 8'S BRAND AMBASSADOR KAIA WRIGHT SHARES HER IN-FLIGHT SKINCARE TIPS TO KEEP 'CABIN COMPLEXION' AT BAY
Dehydrated skin and plane travel go hand in hand. The dry, pressurised cabin air can wreak havoc on the skin leaving it looking dull, dehydrated and fatigued.
No stranger to airplane travel, Kaia Wright, Golden 8 brand ambassador is often found accompanying her husband Matt Wright – the star of international adventure television series Outback Wrangler – on some of his incredible location journeys.
Many hours spent at 33,00ft means that Kaia is familiar with the dreaded 'cabin complexion' – a dry, lifeless appearance followed by a breakout from not taking care of your skin. "I have experienced it one too many times before having to head off the plane and straight to an event, so now I am a stickler for pre-flight and inflight skincare," she said.
To combat this, Australian made and owned skincare brand, Golden 8 have created a Travel Essentials Kit (RRP $69.95), featuring four of the brands best-selling products in convenient, easy-to-use sizes. The Travel Essentials Kit comprises a new Lip Balm (15ml) alongside a travel-friendly sized Hand Cream (50ml), Soothing Cream (50ml) and Face Serum (30ml), allowing you to minimise your cosmetic bag and maximise your inflight beauty routine.
Here Kaia shares her five tips on how to step off the plane with bright radiant skin:
Tip 1: Be prepared
"Make sure you've got your wash bag full of all your inflight necessities," said Kaia. "If you haven't gotten your hands on the Golden 8 Travel Essentials Kit yet, then go get one, it's a gamechanger because it has all the must-haves! The beautiful gold bag contains their Lip Balm, Soothing Cream, Hand Cream and Face Serum, so I just add in a roll-on deodorant, mini hairbrush and face mask (when travelling internationally) and I'm sorted!" she said.
Tip 2: Don't wear make-up
Kaia says "If you can, don't wear makeup at all on the day of the flight and focus on prepping your skin. For me, this involves washing my face with warm water and applying my Golden 8 Serum and Lip Balm every hour. I love feeling my skin drink the moisture and knowing it is as full and plump as it can be ahead of my flight. If you wear makeup, then as soon as you get on the plane remove it and start your serum and balm applications."
Tip 3: Wear a loose maxi. And this isn't just about comfort! 
"Not only is a maxi super comfortable, but they allow you to easily access all parts of your body so you can keep the moisturising up during the flight. I apply and reapply the Golden 8 Soothing Cream to my legs, arms and even stomach while I'm sitting in my seat and lather my hands in Golden 8's Hand Cream whenever I feel them drying out," said Kaia.
Tip 4: Don't waste your time with face moisturiser, an oil is far more effective!
"As airplane air is recycled there is little oxygen which is what dehydrates your skin. And the reuse of the same air can also pollute your skin and clog your pores. I love using Golden 8's Serum as it is an antioxidant miracle oil that nourishes your skin but also protects it from nasty free radical damage," said Kaia.
Tip 5: Drink water, lots and lots of it
Kaia says "I know every travel tips blog recommends drinking water, but it really is the most important tip of them all. During the flight, you lose a tonne of water from the dry air and crazily the humidity is around 10–20 percent, like a desert. So, try to drink 250ml every hour and stay away from super salty foods which will only dehydrate your skin more."
Alongside the Travel Kits, Golden 8 skincare includes Anti-Ageing Face Serum (RRP $39.95, 30ml), Hand & Body Wash (RRP $24.95, 500ml) Body Lotion (RRP $24.95, 300ml), Body Balm (RRP $22.95, 100g), Soothing Cream (RRP $22.95, 100ml) and Hand Cream (RRP $19.95, 125ml).
Golden 8 Travel Kits are available now from selected speciality stores and online via www.golden8skincare.com.