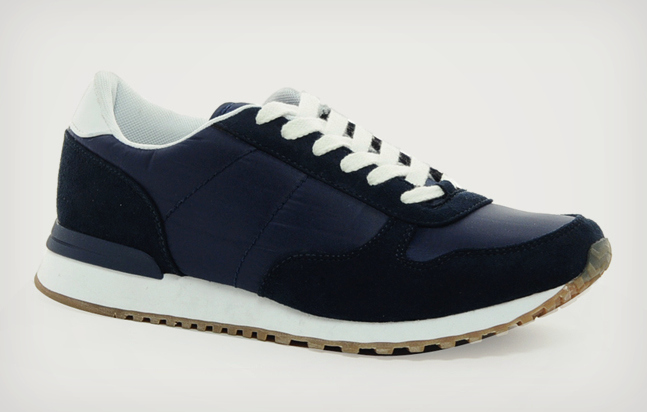 Casual athletic shoes have never been more acceptable in casual and semi-professional settings. It's not uncommon to go into a professional office and see some employees walking around in classic basketball shoes. There are a few things you need to be aware of before you try to integrate sneakers into your semi-professional or semi-formal repertoire. The sneakers have to match your outfit, they have to be clean and they have to be the overall right sneakers.
Cleanliness
First and foremost in integrating casual shoes into your semi-formal rotation is treating them as if they are formal shoes. You probably don't wear your formal shoes out to play basketball and then mow the garden in them. You only wear them in formal settings and you probably take pretty good care of them. You should treat your casual shoes the same way. Make sure that any white parts are wiped down, leather is treated, and suede is brushed. That will keep them looking nice and give you a better chance of wearing them regularly. After all, they're incredibly comfortable; you don't want to jeopardise your chances of wearing them to work.
Matching Them to Your Wardrobe
Matching your shoes to your outfit is very simple when you buy men's sneakers that come in a variety of colours, patterns and materials. You'll have a lot of options, so you can even buy a few pairs and switch them out when appropriate. The simple rule of thumb is that your shoes need to match your belt. That means wear black shoes with a black belt or brown with brown. Don't mix up black and brown.
Your socks are supposed to match your pants, so they need to be something that complements your shoes and your belt. If you're wearing black pants, you can always wear a black belt, black socks and black shoes. It's not the most exciting look, but it's hard to go wrong with understated looks. Keep in mind that neutrals are going to match just about everything in your wardrobe. Neutral colours are colours like navy, black, grey, brown, tan and khaki. If you wanted to just cover all of your bases, you could buy a pair of sneakers in black, navy blue and brown. That would probably match just about everything you wanted to wear them with. Neutral colours are also useful because you can match them with just about anything else you want.
Picking the Right Sneakers
Picking the right sneakers to integrate into your wardrobe involves picking ones that are versatile, comfortable and attractive. You need to make sure that they're not too overstated. A pair of big, bold basketball shoes might not be right for integrating into a classier wardrobe; however, an understated and classic sneaker would be a good choice. You should pick one with clean lines and a low profile. Also, select one that comes in several different colours, patterns and materials. You can switch them out for a matching pair depending on the outfit, without being the guy who always wears basketball shoes with his outfits. You don't want to call too much attention to your shoes.