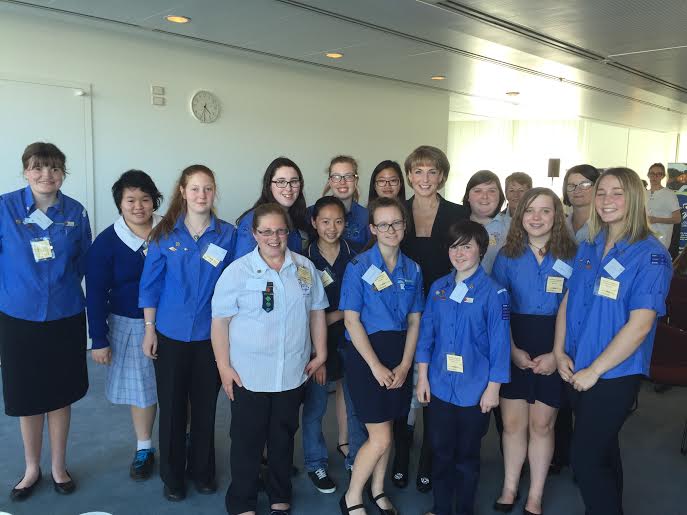 The Minister for Women, Senator the Hon Michaelia Cash this afternoon joined representatives of Girl Guides Australia to celebrate International Day of the Girl Child at Parliament House.
Minister Cash said the theme of the event, "The power of the adolescent girl" was particularly timely given the current discussions throughout Australia regarding gender equality and female empowerment.
"International Day of the Girl Child, held yesterday, is an opportunity to discuss the achievements of women and girls around the world, while also acknowledging the challenges we face," Minister Cash said.
"Here in Australia we have had a renewed, concerted focus on addressing domestic violence which is fundamental if we are to ensure children are not only free from violence and fear, but have childhoods where they feel truly empowered."
Yesterday was an opportunity to remember that there are still great hurdles to overcome across the globe when it comes to basic rights such as access to adequate healthcare and education.
Minister Cash said that while progress has certainly been made, the latest statistics indicate approximately 34 million adolescent girls are denied a secondary education.
"Women make up two-thirds of the globe's 774 million illiterate people," Minister Cash said.
"More alarmingly, one in three adolescent girls is subjected to violence at the hands of their partners."
"These are sobering statistics. They demonstrate the urgency by which we need to act to reduce the effects of poverty, violence, isolation and inequality on adolescent girls."
In her address today, Minister Cash said that when it comes to shifting community attitudes, NGOs can partner with Governments to make a real difference.
"Organisations like the Girl Guides and UN Women must and do lead on this issue," Minister Cash said.
"The joint Voices Against Violence programme is a perfect example of the role you can play to ensure that girls here in Australia grow up in a world that respects their right to a life free from fear and violence."
International Day of the Girl Child takes place on 11 October every year and is a United Nations initiative.