Written by

Matthew Mclaughlin, PhD Candidate, School of Medicine and Public Health, University of Newcastle
Many students across Australia wear traditional school uniforms. These consist of button-up shirts, tailored trousers, pleated skirts or tunics, and black leather shoes.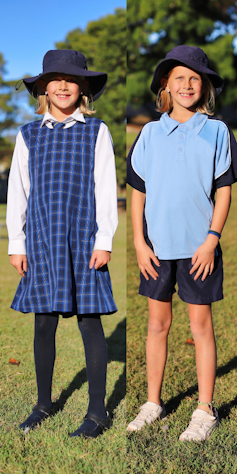 Dr Steven Fleming

,

Author provided
This is despite the fact most students, teachers and parents support a move away from traditional uniforms to ones more comfortable for students and more supportive of a range of activities they do at school.
Schools across Australia set their own uniform policy, informed by their jurisdiction's education authority. Here are four reasons schools should consider offering students the option to wear sports-like uniforms every day, starting with the savings for parents.
1. Traditional uniforms are expensive
The average cost in Victoria for a primary-school student uniform appropriate for summer and winter, as well the sports uniform, is around A$330 on average. For secondary schools this increases to around an average of $526 per student. Catholic and independent school uniforms are consistently more expensive than ones in government schools.
The biggest saving that comes from shifting to an everyday policy of sports uniforms is that parents don't need to buy multiple uniforms. If parents only need to buy a sports uniform, this could save around $167 for primary-aged and $363 for secondary-aged students (based on Victorian figures).
Sports uniforms are cheaper than traditional uniforms. Most sports uniforms consist of a tracksuit, polo shirt with school logo, sport shorts and trainers – at a total average cost of $163. Increasing mass-production of a sports uniform may reduce this cost even further.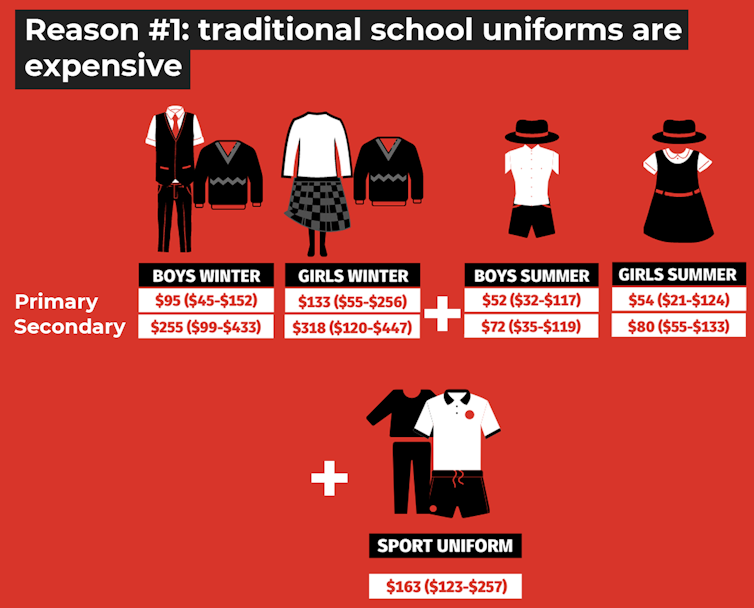 Authors: Matthew Mclaughlin, PhD Candidate, School of Medicine and Public Health, University of Newcastle
Read more https://theconversation.com/4-reasons-schools-should-let-students-wear-sports-uniforms-every-day-161653