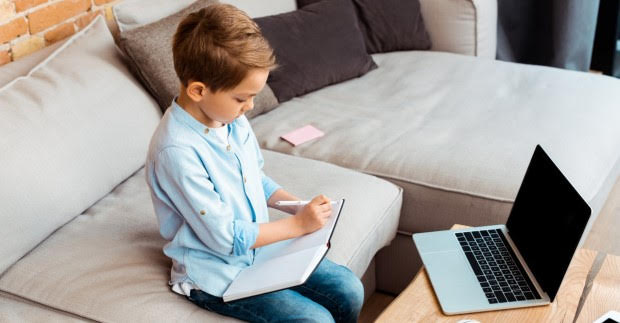 One of the major effects to have come out of the quarantine is the mass adoption of online remote education by schools around the country. So much of what we do has already been moved online, so from an outsider's viewpoint it seems like teaching online should be such a simple and obvious thing. We just need to take what we are already doing and move it online.
If I had a class of twenty students, I simply send out the Zoom invitations and ask the students to all log in at the assigned time. From there I can continue teaching the same thing I've always taught, in the same way. Easy.
Except that it isn't.

The Wall Street Journal released an article last year entitled "The Results Are In for Remote Learning: It Didn't Work" that explains that around the country a vast majority of parents and teachers feel that the way schools have been doing remote learning isn't working.
The article talked about a number of different reasons for why opinions of remote learning are so poor, ranging from lack of internet connectivity to a lack of student engagement, but one of the biggest problems that newly remote teachers face is simply that teaching in-person and teaching online do not share a one-to-one correlation.
It is not a simple switch because teaching in-person and teaching online are in fact not the same thing.
Years ago the retail world shared the same sort of reckoning when e-commerce came onto the scene. While the availability of the internet as an easy location to reach customers sounded like an amazing opportunity, many stores that had had great success in their brick-and-mortar stores failed to make the leap into successful online ventures.
Take Sears, for example. In 1998, the Sears Christmas catalog went online for the first time at Wishbook.com, a year before the Sears.com website was launched. The way they were doing things in their store was working well for them, so when they decided to move online they didn't try to reinvent the wheel. They simply scanned their catalog and made it available online.
In today's world, this approach to e-commerce seems almost laughable, but in the early days, it wasn't so evident. People weren't accustomed to selling and shopping online yet, and it seemed like a good idea to try what worked in other mediums, but that approach ultimately failed because the real world and online experiences are not equivalent.
Companies like Amazon saw these areas for improvement and decided to try something new. They focused on making the customer experience online their priority, and through that method, they gained the success that they have today.
In the same way that retailers had to rethink and rebuild the methods used to reach customers, teachers need to rethink their strategies as they attempt to interact with their students in a digital environment.
Learning to Teach Again
As we move into the end of the year, it is becoming apparent that our schools' current vision for remote learning is in need of some changes. Luckily, remote learning is not an entirely new topic. Many companies, such as CodeWizardsHQ, have been teaching online for years, with great success. From our own experience, we are able to offer some suggestions for moving forward successfully with remote learning.
Reconfiguring Class Sizes -
Schools often conduct classes with more than 20 students at a time, but when these classes move online it can be difficult for a teacher to do more than simply "broadcast" their lesson.
In a physical classroom, it is much easier to give students the one-on-one attention that they need to succeed. Teachers are able to read body language more easily in person, alerting them to the need for extra attention, but these cues are much harder to detect in an online environment. It can be almost impossible to make sure students are paying close attention to what is happening in the class, especially when there are so many possible distractions.

One way to deal with this is to meet with students in smaller groups. In a smaller group, the teacher is more capable of interacting with each student in a way that encourages them to pay attention throughout the lesson. It also makes it much easier to see when a student might need a little extra help, since the teacher doesn't have to divide their attention among as many students.
Of course, we already knew small class sizes are better! But this is a place where teaching online can possibly even be an advantage. If a class of 24 students gets broken into three groups of 8, their teacher can focus more on just those eight students during the course of the class. They could perhaps even increase the amount of close contact time with those students when compared against in-person classes! And since a lot of learning happens in pre-class readings and activities, the time spent in class with the teacher can be more tightly focused on areas that may need help.
We've been using small class sizes for years (less than 8) in our coding classes for kids and can vouch that while larger class sizes are workable in person, the optimal class size for an online environment is much less than 20.



Redesigning Curriculum -
In a physical school environment, class time can often end up being devoted to a lecture style of teaching. This doesn't work nearly as well in an online class. It can be much trickier to hold onto the attention of students when everyone is remote, and the curriculum for a digital classroom needs to reflect this.

Work for classes should be divided out into individual pre-class work, peer study collaborative work, classroom time, and post-class practice. Teachers can provide resources like videos, readings and more for the student's to work through at their own pace. The majority of work should actually happen outside of classroom time.

But the big thing is what happens during "in class" time. In a digital first curriculum, classroom time should be defined by the words "interactive" and "hands-on". Classroom time is not for introducing new concepts. Instead it is for troubleshooting. Teachers should use this time to dig into the ways that students are using and understanding the information that was introduced to them through pre-class work, and to help them to fix any misunderstandings they might have.



Rethinking Professional Development (i.e. Teacher Training)-
Teachers are currently being asked to do a job for which they were never trained. Many teachers may be great with interacting with kids but have little to no understanding of the technological side of things. Having been asked to do jobs for which I had no training myself, I feel for them. It can be absolutely draining to be told that you're not doing a good job on something when you feel like you're giving it your all, and that's not something that these teachers deserve.

It is important, then, that teachers receive the training that they need to be successful in their new online roles. It can take years of practice to become accomplished in using online platforms to their fullest potential. A simple thing like learning how to mute a student's microphone when there's a distracting sound can do wonders for the overall effectiveness of a class, but it may not be an idea that occurs to a teacher if they don't have experience on-line. Likewise, students may be using in-class chat to distract each other instead of paying close attention to the teacher. It is possible to disable chat between students, but without proper training teachers may not know that.


Professional Development time in schools needs to be focused on getting their teachers up to speed as quickly as possible, with a focus on the specific tools that the teachers will be using so they can use the technology to help them focus on the part of school that they do best. The teaching.



Rebuilding Online Learning Tools-
While it can be easy to assume that the tools that we already have are enough, the fact of the matter is that we're not there yet. Many of the tools that are needed for a successful online learning experience simply don't exist yet. As great as Zoom is, it's just a small part of the overall picture. It's the difference between tightening a bolt with a crescent wrench instead of a ratchet. You can get the job done, but it could definitely be made easier by using the right tool. That's something that we realized early on in our online teaching journey, and is the reason we've spent over 10,000 hours building our own set of tools to help our students learn online.



Reaching for Beyond the Classroom Learning (BCL) -
Especially in today's world, students cannot be expected to learn everything that they need to know just inside the classroom. Class time and homework are simultaneously too much and not enough. It is important, then, that students have the support they need to encourage learning outside of the classroom. This could take the form of organized self-learning extension activities, teacher to student communication outside the class, or student to student community building. This could look like monitored online discussion forums, or even interest led extracurricular classes like what CodeWizardsHQ offers for learning to code.

Oftentimes these activities help to build a community based on interests and can help extend students' knowledge through learning about topics related to what is being taught inside the class.
Ordinary teachers everywhere are being asked to perform an extraordinary feat, teaching online, and while many feel like it should be simple, it isn't. From the outside, maybe the results look like the failure of remote learning.
In our opinion, remote learning does work, we just have to do it right.
It's a paradigm shift, and those can take some time. But, by supporting each other and sharing our learnings we can and must succeed for the kids.