Written by

Samantha Donnelly, Lecturer, School of Architecture, University of Technology Sydney
Australia urgently needs housing types that meet the needs of older women facing homelessness. One such model is Chinese siheyuan courtyard housing, which provides safe, affordable and private living spaces while maintaining a sense of community. It has potential for adapting existing buildings for re-use in Australia in a way that makes financial, social and environmental sense.
Women over 45 are one of the fastest-growing groups of people who are homeless in Australia. In 2020, an estimated 405,000 women over 45 were at risk of housing affordability stress and hence becoming homeless. Considering the shortage of affordable housing, an ageing population and the lifelong economic disadvantage that women experience, this problem requires a speedy solution.
Read more: 400,000 women over 45 are at risk of homelessness in Australia
A simple (and obvious) solution for older women facing homelessness is to provide them with access to appropriate, safe and affordable homes for the long term. So why is this problem so difficult to solve?
Recent attempts to meet this need for older women's housing include "pop-up" or "meanwhile use" accommodation in vacant aged-care facilities and tiny houses. While both types provide good short-term options, they do not create long-term housing that meets older women's needs to age in place and have secure tenure and a sense of belonging. All these aspects are important for their well-being.
Read more: 'Meanwhile' building use: another way to manage properties left vacant by the COVID-19 crisis
What if we were to take the idea of adapting existing buildings and merge it with the idea of tiny homes? Chinese courtyard housing – siheyuan – has some important principles that could be culturally adapted to the Australian context.
Finding new spaces in old stock
Adaptive reuse involves the conversion of new spaces within old ones. An existing building is recycled by integrating a new set of functions into the existing skin to suit the needs of new inhabitants.
This is not a new concept – think of the Hagia Sofia in Istanbul, originally a mosque, then church, now museum. Or Paddington Reservoir in Sydney, originally infrastructure, then petrol station, then ruin, now urban performance space.
Adaptive reuse works on a triple-bottom-line approach: economic, environmental and socio-cultural. Recycling an existing building is cheaper, better for the environment and ensures the collective memory of a place is not erased. For buildings as for older women, respect for age, connection to place and care for the environment are important.
Read more: Unused buildings will make good housing in the world of COVID-19
Chinese wisdom in an Australian context
The name "siheyuan" translates into quadrangle courtyard housing. This type of housing comes from traditional Confucian ideas of the extended family unit, arranged around a courtyard or series of courtyards with graduated levels of privacy.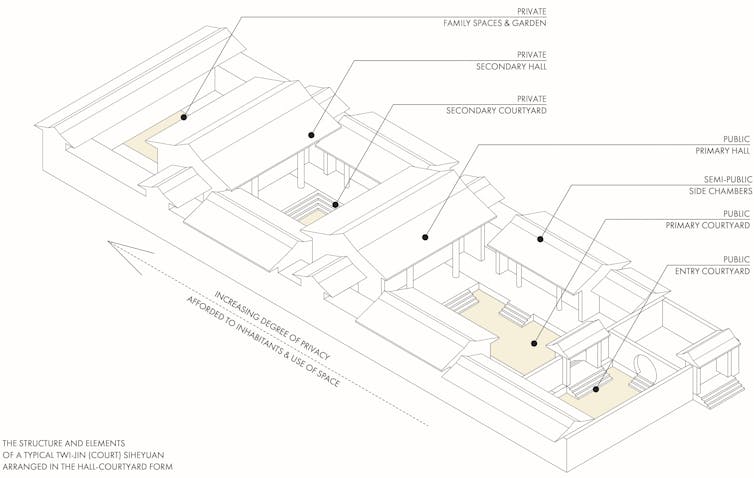 Authors: Samantha Donnelly, Lecturer, School of Architecture, University of Technology Sydney
Read more https://theconversation.com/how-chinese-courtyard-housing-can-help-older-australian-women-avoid-homelessness-151378