Written by

Stephen Duckett, Director, Health Program, Grattan Institute
The Productivity Commission yesterday released the health section of its annual Report on Government Services, bringing together a range of data on hospitals, primary care, ambulance services and mental health care in Australia.
Comprising more than 200 spreadsheets, it's difficult to know where to start any analysis.
With a variety of reports published all the time about Australia's health system, before delving into the findings it's worth starting with what this one is all about, and why it's important.
Read more: Budget 2020: big health problems lead to big health spending
Filling a gap
Australia's health system is an accountability black hole, despite exabytes of data being collected from hospitals, medical services and the public.
Commonwealth and state governments collectively spend about A$115 billion annually on health services, but we don't always know exactly what results we get for the money.
Very often the data collected are simply about how many "things" have been produced — how many hospital bed days or patients treated, how many GP attendances — rather than what result was achieved for the patient, how efficiently and how equitably.
And the data can be fragmented and overlapping. It is rarely transformed into useful information the public can understand and use to hold politicians, doctors, and hospitals to account.
The Productivity Commission Report on Government Services aims to help fill the accountability hole, with information going beyond simply counting activity to include information about quality as well. The idea is that public reporting will prompt governments to improve their health systems.
How do we measure health system accountability?
We can think of health sector accountability on four different levels, across three main dimensions of accountability: financial, performance and political.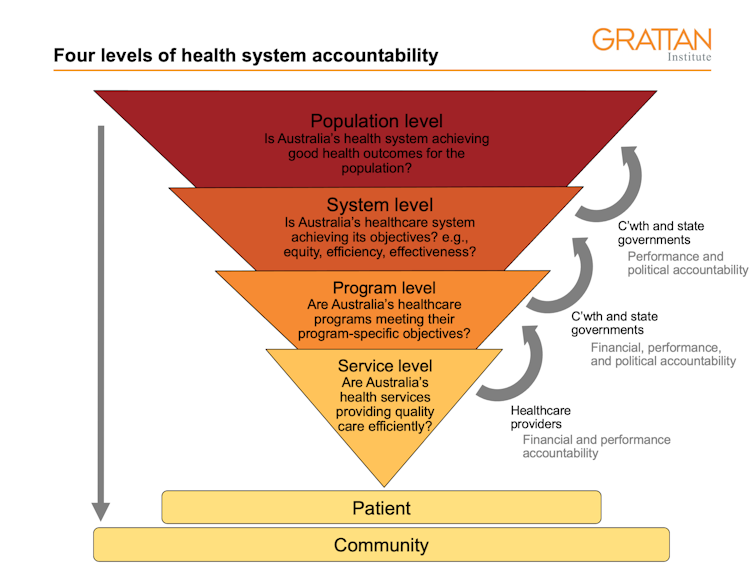 Authors: Stephen Duckett, Director, Health Program, Grattan Institute
Read more https://theconversation.com/productivity-commission-health-report-provides-useful-information-but-leaves-some-big-questions-unanswered-154170