Written by

Amy Boyle, PhD Candidate, University of Wollongong
In a new series, writers pay tribute to fictional detectives on the page and screen.
When Jessica Jones slunk onto screens in 2015, it was only fitting for the series in which she featured to begin in the shadows of Hell's Kitchen. As the first superpowered female lead in the Marvel Cinematic Universe (albeit, on Netflix rather than in movie theatres), Jones existed on the margins.
Like others, I had been waiting for a female-led Marvel film while becoming disenfranchised by its offerings. By the time Jessica Jones came around, I was completely ambivalent and somewhat despondent. It was a welcome surprise that Jones (played by Krysten Ritter) was different — and not just because she was a woman.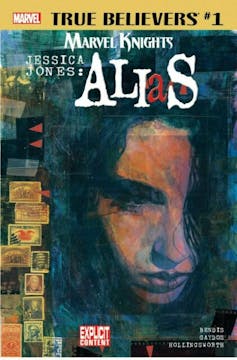 Authors: Amy Boyle, PhD Candidate, University of Wollongong
Read more https://theconversation.com/my-favourite-detective-jessica-jones-a-super-detective-for-the-marvel-generation-149542