Written by

Irene Håkansson, Postdoctoral Reserach Fellow, University of Melbourne
In the face of the global health and climate crises, we look at our cities both anxiously and hopefully. We deviate from our normal patterns of behaviour to avoid close physical contact and suffer associated emotional and practical losses. At the same time, we envision our cities' lasting transformation for the better.
We have become familiar with astonishing photographs of clear blue skies over usually polluted cities or of cyclists, pedestrians and even wild animals appearing on suddenly deserted streets. Although we are rightly warned not to get complacent, these images of what could be have animated calls for a "green", sustainable healing. A window of opportunity is opening to accelerate action on climate change and sustainability, while safeguarding ourselves as we live with COVID-19.
But how and where do we kick-start and anchor the kinds of initiatives needed to achieve and unify these objectives? And what could and should these initiatives be?
How we want to use the urban realm is clearly changing. We require and value (more) cycling paths, pedestrianised areas and public green spaces. Once workers and students return to the city, things like outdoor lunch and meeting spaces may be essential.
With this in mind, we propose a renewed look at prevailing urban blueprints, drawing on potential answers from initiatives like the Melbourne Innovation Districts (MID).
Despite suspicions, public has a role to play
Innovation districts are a nucleus of knowledge-based and creative economic activities. They are walkable neighbourhoods that connect organisations like universities or cultural institutions with science-and-technology-driven businesses.
The idea is that the vibrancy and connectivity of these urban quarters attract creative start-ups and spin-outs. At local networking events, for example, researchers, students, knowledge workers, business and community organisations can come together to share new knowledge and city experiences.
In cities like New York and San Francisco, innovation districts have been criticised as "high-tech fantasies" and pure real-estate businesses that deepen segregation and inequalities. A survey across three Australian cities (Sydney, Melbourne, Brisbane) that are home to a number of innovation districts found communities view them with suspicion.
Read more: Valleys, alleys and roundabouts: innovating beyond a precinct
We must not downplay such assessments. However, the context of time and place is vital. The Melbourne Innovation District just to the north of the CBD is not (yet) the site of a tech-financial elite. It is still in the making, which allows for a (re-)shaping of its intended purposes of place-based collaboration, innovation and public engagement.
The district was established in 2016 and endorsed by the Future Melbourne Committee in late 2019. It is a partnership between the City of Melbourne, the University of Melbourne and RMIT University. With its identity and function evolving, it may play a guiding role in Melbourne's and other cities' way forward.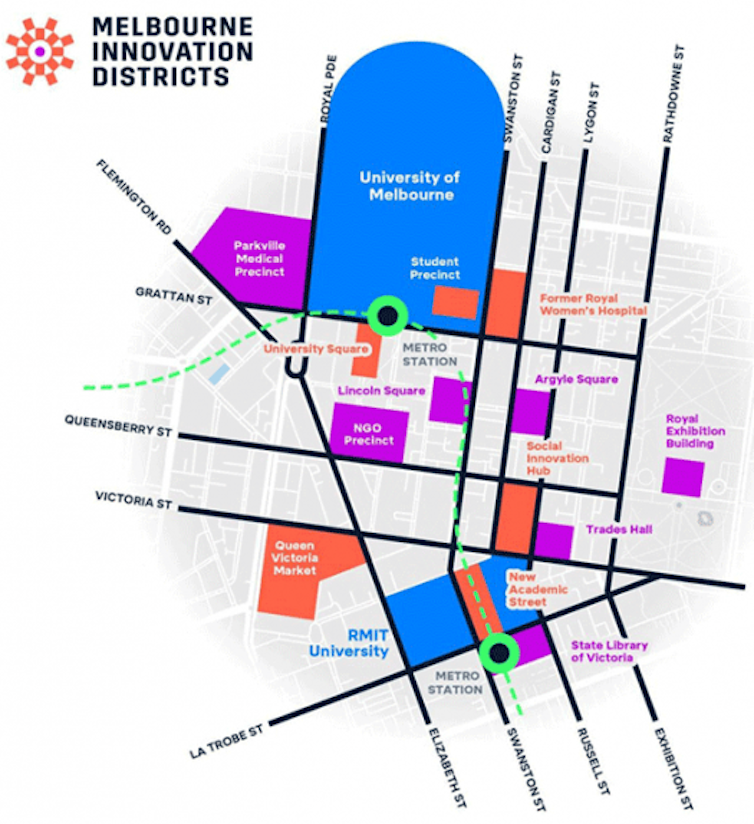 Authors: Irene Håkansson, Postdoctoral Reserach Fellow, University of Melbourne
Read more https://theconversation.com/innovation-districts-like-melbournes-could-help-chart-our-course-out-of-crisis-142267