Written by

Carly Osborn, Visiting Research Fellow, University of Adelaide
In our series Art for Trying Times, authors nominate a work they turn to for solace or perspective during this pandemic.
There is a genre of novel that I have relied upon for many years. Some people call it "airport fiction", or "beach reading". The name implies a reassuring effort-to-pleasure ratio. It includes young adult novels about teenage girls kicking arse in post-apocalyptic dystopias, low-stakes relationship dramas and action-thrillers full of weapon specifications.
These are the books I turn to when my emotional capacity is near nil. When I am exhausted by life, by working and parenting and waiting on hold and all the other activities that make me feel as wilted as a wet sock.
It's a pleasure to curl up with a cup of tea and a novel of escapist silliness. For a few hours I'm distracted and entertained. But lately I have been worse than wilted. Fear and uncertainty have become a constant background sensation. Grief and despair flow in and out of my consciousness like a grim tide.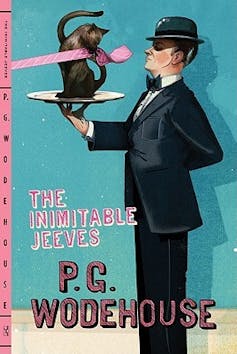 Authors: Carly Osborn, Visiting Research Fellow, University of Adelaide
Read more https://theconversation.com/p-g-wodehouse-in-a-pandemic-wit-and-perfect-prose-to-restore-the-soul-143533