Written by

Melanie Davern, Senior Research Fellow, Director Australian Urban Observatory, Co-Director Healthy Liveable Cities Group, Centre for Urban Research, RMIT University
COVID-19 provides a stark reminder of inequity and the spread of disease. These aren't new ideas and can be traced back to John Snow's cholera maps and Charles Booth and his colour-coded maps of occupation types and poverty in the 19th century. Today, as case numbers soar in Melbourne, large clusters of COVID-19 cases have been identified across the northern and western suburbs, raising questions about occupation types and socio-economic differences across the city.
One of the most important messages from government during the pandemic has been to work from home if you can. Though what happens if your work isn't suited to this?
Read more: Two weeks into Melbourne's lockdown, why aren't COVID-19 case numbers going down?
Snow and Booth were forefathers of modern geographical information systems (GIS) analysis. It's a powerful tool for mapping and visualising differences or inequities across cities and the spread of disease. We mapped the connection between occupation types, indicating the ability to work from home, and the locations of COVID-19 cases across Melbourne in the recent second wave.
Why is equity a health issue?
Hotspot suburbs were first identified and ring-fenced in early July. A hard lockdown was applied to the 3,000 residents of nine high-density public housing estates in inner Melbourne.
Ring fencing is a powerful method of containing a disease. It's most appropriate where a specific location has a distinctive pattern of risk. It should also be applied without bias.
As the public housing towers lockdown reminded us, there is an inequity in health.
Read more: Our lives matter – Melbourne public housing residents talk about why COVID-19 hits them hard
Many people associate equality with treating everyone the same regardless of their needs. This is very different to equity, which is about treating people according to their needs. Unlike equality, equity is providing people with extra help when it is needed.
The picture below makes the concept of equity easier to understand.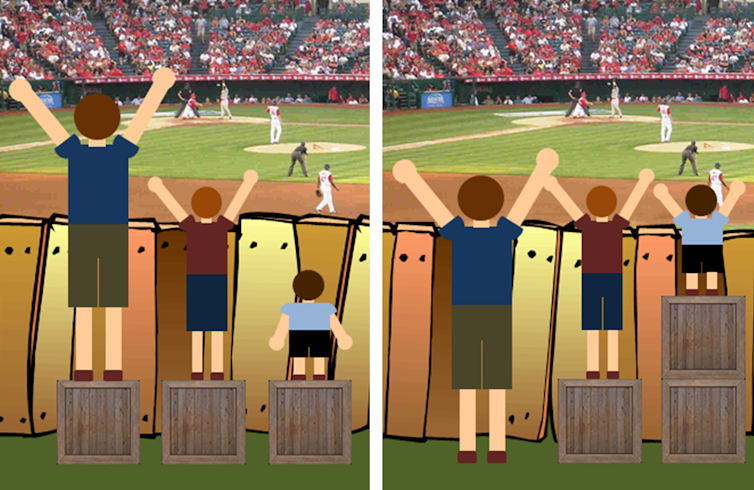 Authors: Melanie Davern, Senior Research Fellow, Director Australian Urban Observatory, Co-Director Healthy Liveable Cities Group, Centre for Urban Research, RMIT University
Read more https://theconversation.com/mapping-covid-19-spread-in-melbourne-shows-link-to-job-types-and-ability-to-stay-home-143610