Written by

Mary-Louise McLaws, Professor of Epidemiology Healthcare Infection and Infectious Diseases Control, UNSW
New South Wales is on a knife edge after recording more than 150 COVID-19 cases over the last 14 days, a worrying sign the situation could spiral out of control.
The wide geographic spread is of particular concern, as it would rule out ring-fencing as a possible approach to containing the spread of the virus.
It comes as the Queensland government has closed its borders to arrivals from Greater Sydney after declaring the area a hotspot. People returning to Queensland from this area must quarantine in hotels for two weeks from 1am Saturday August 1.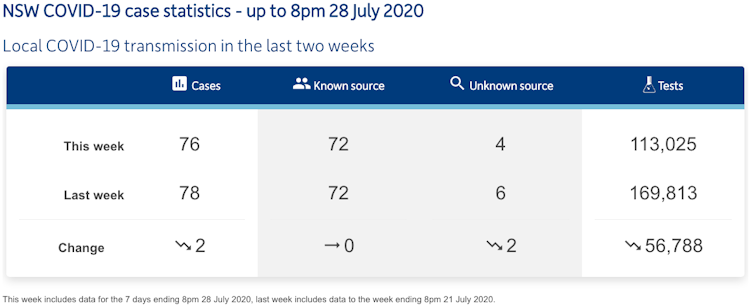 Authors: Mary-Louise McLaws, Professor of Epidemiology Healthcare Infection and Infectious Diseases Control, UNSW
Read more https://theconversation.com/new-south-wales-on-a-knife-edge-as-cumulative-coronavirus-case-numbers-spiral-into-the-red-zone-143608