Written by

Kate Noble, Education Policy Fellow, Mitchell Institute, Victoria University
This week, the federal government released a review of a relief package it put in place in April to ensure the early childhood education and care sector remained financially viable and children of essential workers, as well as vulnerable children, could continue to attend.
The review said in the week the relief package was announced
30% of providers faced closure due to a massive, shock withdrawal of families and another 25% of providers were not sure they could ever recover, even once the virus crisis has passed.
Under the emergency arrangements, the government is paying 50% of a childcare provider's fee revenue up to the existing hourly rate cap, based on the enrolment numbers before parents started withdrawing their children because of the COVID-19 pandemic.
Childcare centres are prohibited from charging families an out-of-pocket fee, with the rest of their costs expected to be recouped through JobKeeper. Or they can limit costs by restricting the number of children in care, while prioritising children of essential workers.
On the release of the review of the scheme – due to end on June 28 – education minister Dan Tehan said the plan had "done its job" with 99% of services remaining open, and most providers saying the emergency response has helped with financial viability.
Read more: Morrison has rescued childcare from COVID-19 collapse – but the details are still murky
The package is far from perfect, and has helped most early childhood services but not all. The review reports a survey of around 54% of providers found the new payment had "at least to some extent" helped 86% of them stay open and retain staff and 76% to "remain financially viable".
In early May, one provider of aged, disability and early childhood services, Uniting NSW and ACT, reported it was losing A$1 million a month under the scheme.
Other centres reporting heavy losses include those with high numbers of children attending already, and those where a high number of staff aren't eligible for JobKeeper, such as if they are casuals or on temporary visas.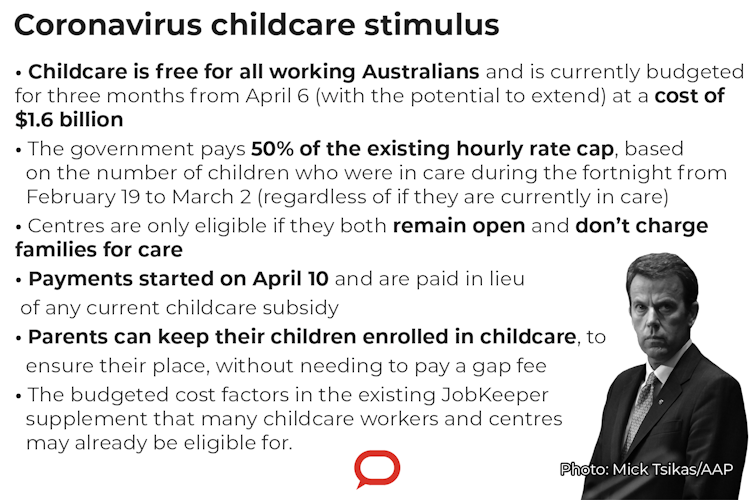 Authors: Kate Noble, Education Policy Fellow, Mitchell Institute, Victoria University
Read more https://theconversation.com/childcare-is-critical-for-covid-19-recovery-we-cant-just-snap-back-to-normal-funding-arrangements-139027