Written by

Michelle Grattan, Professorial Fellow, University of Canberra
Only five people will be able to attend a wedding – the couple, the celebrant and two witnesses - and funerals will be limited to 10 in the latest round of life-changing restrictions to be imposed on Australians to fight the coronavirus's spread.
Real estate auctions and "open house" inspections will be stopped, and Australians will now be prohibited from leaving the country - with some carve outs such as compasssionate grounds - rather than just strongly advised not to do so.
Scott Morrison, announcing the new crackdowns, also told people to stay home, except when it was absolutely necessary to go out. But they shouldn't have the extended family around the dinner table or over to a barbecue.
Read more: View from The Hill: A contest of credible views should be seen as useful in a national crisis
However parents are still being told it is safe for children to go to school, and on Wednesday Morrison will meet teachers' union representatives to discuss arrangements to protect staff, especially older teachers more vulnerable to the virus. Schools would need to reopen on the other side of the holidays, he said.
Addressing a news conference after Tuesday night's federal-state national cabinet, Morrison said the widened list of bans would include food courts in shopping centres, except for takeaways. Outdoor and indoor markets - excluding food markets essential to ensure the food supply across the country – will be dealt with by each state and territory.
A range of personal services, including beauty therapy, tanning, waxing, nail salons and tattoo parlors, will be shut down, as well as spas and massage parlours. This does not extend to physiotherapists and similar allied health services.
Hairdressers and barbers have escaped closure, but with a social distancing limit to the number of people on their premises, and the stipulation a patron can only be there for 30 minutes.
The banned list also includes amusement parks and arcades, play centres (both indoor and outdoor), community and recreation centres, libraries, health clubs, fitness centres, yoga, barre and spin facilities, saunas, and wellness centres. Social sporting events and swimming pools are on the list, as are galleries, libraries and youth centres.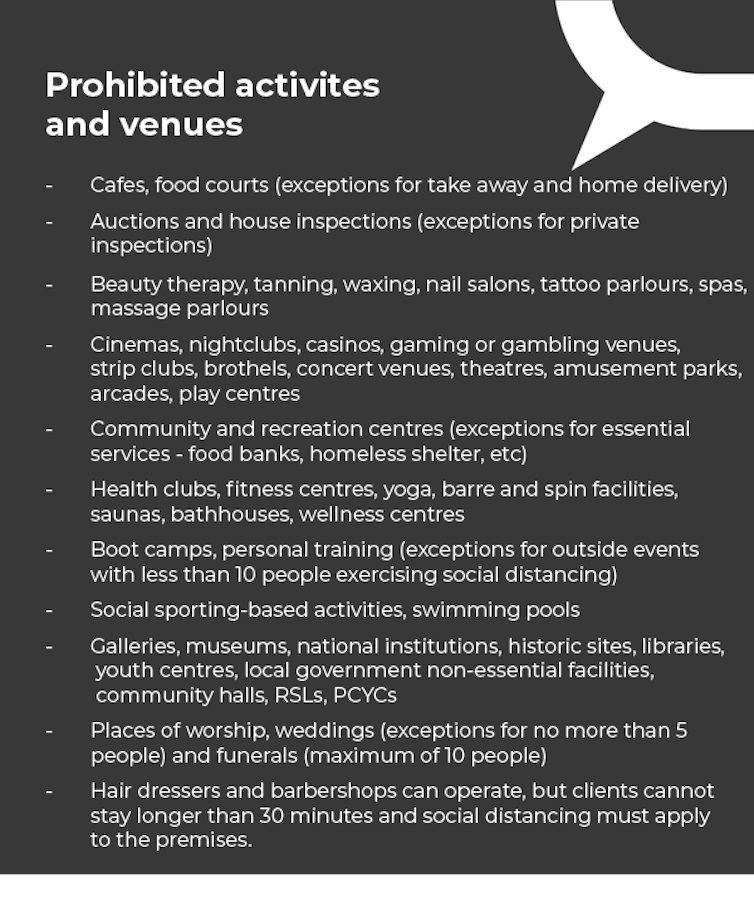 Authors: Michelle Grattan, Professorial Fellow, University of Canberra
Read more https://theconversation.com/in-the-age-of-coronavirus-only-tiny-weddings-are-allowed-and-the-extended-family-bbq-is-out-134584