Written by

Michelle Grattan, Professorial Fellow, University of Canberra
The long-awaited ALP campaign review says Labor lost "because of a weak strategy that could not adapt to the change in Liberal leadership, a cluttered policy agenda that looked risky and an unpopular leader".
"No one of these shortcomings was decisive but in combination they explain the result," says the report from former South Australian premier Jay Weatherill and former federal minister Craig Emerson.
While it says Labor's big tax policies didn't cause the defeat, the size and complexity of its spending plans "drove its tax policies" exposing it "to a Coalition attack that fuelled anxieties among insecure, low-income couples in outer-urban and regional Australia that Labor would crash the economy and risk their jobs".
Labor failed to "craft a simple narrative" bringing together its policies, the reviews says.
Its analysis is damning while seeking to be positive for the future, at a time when the ALP remains in shock at its unexpected loss and divided and uncertain about the way forward.
Looking ahead, the report says "policies can be bold but should form part of a coherent Labor story, be limited in number and be easily explainable, making them less capable of misrepresentation".
"Labor should position itself as a party of economic growth and job creation. Labor should adopt the language of inclusion, recognising the contribution of small and large businesses to economic prosperity, and abandon derogatory references to 'the big end of town'."
The report's emphasis on the importance of Labor tapping into economic growth and being attuned to business reflects the direction in which Anthony Albanese has been seeking to take the party since becoming leader.
The criticism of the "big end of town" language is a direct slap at the rhetoric of Bill Shorten.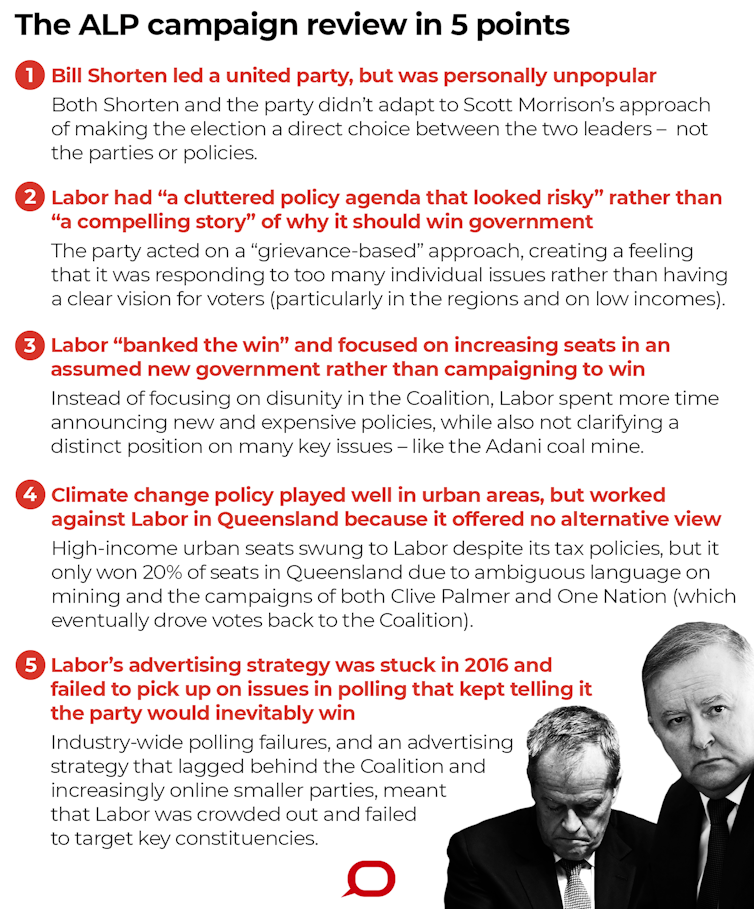 Authors: Michelle Grattan, Professorial Fellow, University of Canberra
Read more http://theconversation.com/labors-election-post-mortem-warns-against-becoming-a-grievance-based-organisation-126592