Written by

Ella Donald, Tutor in Communications and Arts, The University of Queensland
At the 1976 Olympics in Montreal, gymnastics got what it was looking for: an image.
Romania's Nadia Comăneci was a tiny 14-year-old, leaping on the floor with a pixie-like grace, moving between the bars with lightning fast precision. On her first bar routine, she received a perfect ten: the first ever ten in Olympic Gymnastics.
She would go on to receive seven perfect tens over the course of the 1976 games.
Wikimedia Commons
Comăneci became an icon for the sport, and the image of a young, lithe girl, has endured.
Even through the loss of the perfect ten and the introduction of open scoring – favouring strength and power – women's gymnastics is still too often dismissed as a sport of frivolity, dominated by children, meek and prepubescent, discouraged from expressing themselves.
Simone Biles - a confident, powerful woman at the peak of her powers in her early 20s - is a change to gymnastics that was inevitable, but is simultaneously one she has come to symbolise.
She is both the greatest gymnast ever, and unlike any gymnast the world ever has seen.
A punishing gymnastics monarch
Comăneci had her run in '76 thanks to husband-and-wife coaching team Bela and Márta Károlyi. To understand the pair is to understand the image of the Olympic champion.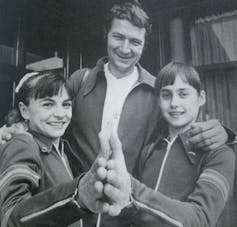 Wikimedia Commons
Bela was a former boxing champion and member of the national hammer throwing team, later studying gymnastics while at the Romania College of Physical Education.
In his final year at the college he coached the women's team, which included Márta. After starting their own class in the town where Bela grew up, they were invited to create a national school for gymnastics.
It was when he was training young girls, handpicked for the sport based on their specific body types, he first encountered six-year-old Comăneci.
The Karolyis produced outstanding athletes who seemingly achieved the impossible with focus and ease. In 1981, they defected to the United States, and continued their reign in a new country, building a gym in rural Texas they named Károlyi Ranch. By 1984, Bela had coached new Olympic champions in Mary Lou Retton and Julianne McNamara.
In 1999, Bela was appointed the national team coordinator; and the isolated Károlyi Ranch was designated as the US Women's National Training Centre. For many years, this gym was a mythologised site of gymnast creation: it would later extensively figure into the sexual abuse trial of former national team doctor Larry Nassar.
The Károlyis had exacting – and often damaging – standards. Gymnasts felt compelled to train and compete with broken bones and other injuries. They divested from the diverse body shapes which once filled the sport for a perpetual state of prepubescence, maintained by punishing overtraining and disordered eating: 1996 Olympic champion Dominique Moceanu has said the athletes were restricted to 900 calories per day.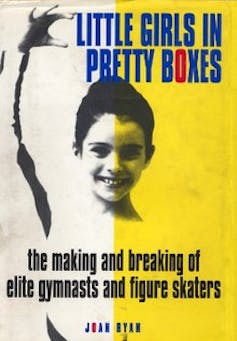 Authors: Ella Donald, Tutor in Communications and Arts, The University of Queensland
Read more http://theconversation.com/from-delicate-teens-to-fierce-women-simone-biles-athleticism-and-advocacy-have-changed-gymnastics-forever-124485