Written by

Peter Martin, Visiting Fellow, Crawford School of Public Policy, Australian National University
The government's new retirement incomes review will need to work quickly.
On Friday Treasurer Josh Frydenberg said he expected a final report by June, just seven months after the issues paper he wants it to deliver by November.
The deadline is tight for a reason. In recommending the inquiry in its report on the (in)effeciency of Australia's superannuation system this year, the Productivity Commission said it should be completed "in advance of any increase in the superannuation guarantee rate".
In other words, in advance of the next leglislated increase in compulsory superannuation contributions, which is on July 1, 2121.
Read more: Government retirement incomes inquiry puts superannuation in the frame
The next increase (actually, the next five increases) will hurt.
The last two, on July 1 2013 and July 1 2014, took place when wage growth was stronger. In 2013 wages growth was 3% per year.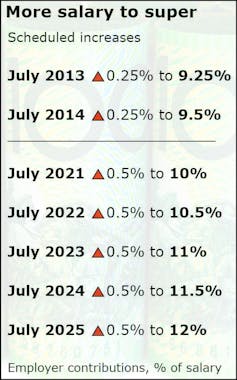 Authors: Peter Martin, Visiting Fellow, Crawford School of Public Policy, Australian National University
Read more http://theconversation.com/five-questions-about-superannuation-the-governments-new-inquiry-will-need-to-ask-124400