Written by

Simone Casey, Research Associate, Future Social Service Institute, RMIT University
In all Australia's capital cities, average share-house rents in the inner suburbs (where jobs are concentrated) leave people without enough money for food and other basics, new research shows.
This research, for a forthcoming report by the authors, proves there is a rental housing crisis for people on Newstart (and other low-income earners) everywhere in Australia.
The analysis was based on Real Estate Institute of Australia (REIA) data, using common indicators such as housing affordability and stress. Housing stress for people on low incomes is defined as when rent costs more than 30% of their income.
Read more: Private renters are doing it tough in outer suburbs of Sydney and Melbourne
For example, the dataset for Victoria (the third-most-expensive rental market and broadly representative of the nation) shows rent for a share house in Melbourne averages 70% of income for a single person receiving Newstart (A$277.50 per week) and Commonwealth Rent Assistance (A$45.74 per week). This leaves people with A$98 a week to live on. That's less than half the A$216 a week that experts calculate is a healthy base level of income for a single unemployed person.
After paying rent, people on Newstart have just A$14 a day to cover food, utilities and the costs of job seeking such as mobile phone plans and travel cards (A$4.40 a day in Melbourne).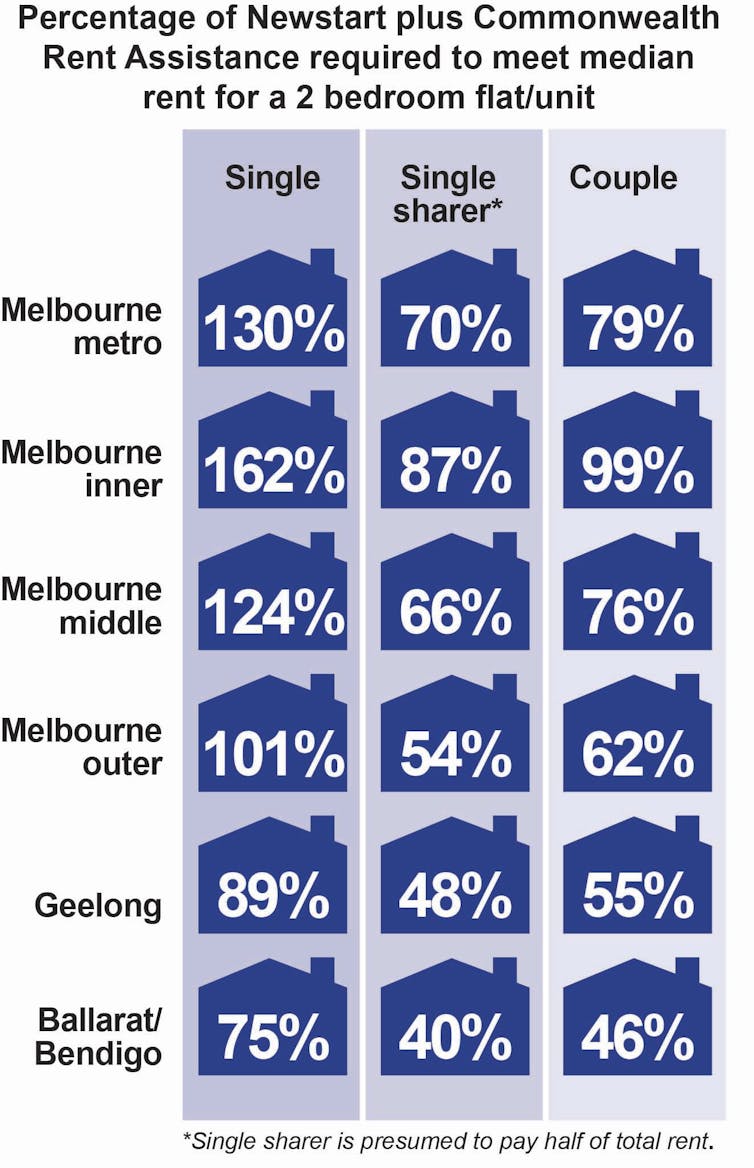 Authors: Simone Casey, Research Associate, Future Social Service Institute, RMIT University
Read more http://theconversation.com/city-share-house-rents-eat-up-most-of-newstart-leaving-less-than-100-a-week-to-live-on-123772