Written by

Tony Walker, Adjunct Professor, School of Communications, La Trobe University
When journalist Brian Toohey began researching his book Secret: The Makings of Australia's Security State, he could not have foreseen publication would coincide with real-time overreach by government agencies of their security responsibilities.
Contemporary examples of such overreach include: a raid on a Canberra journalist's apartment in search of evidence of who might have leaked top-secret information about the government's surveillance plans; pursuit of a former intelligence officer and his lawyer over revelations Australian agents had bugged presidential offices of Australia's weakest neighbour; and intrusions into ABC offices to gather evidence of sources of information about alleged Special Air Service war crimes in Afghanistan.
Laws that are antagonistic to journalist inquiry in pursuit of wrongdoing have been hustled through the Australian parliament in the past several years. Toohey writes:
No major party seems bothered by the use of new surveillance technology that allows governments to detect contact between journalists and their sources, effectively denying whistle-blowers the opportunity to reveal abuses of power and criminal behaviour.
If this was simply a matter of constraining journalists' attempts to expose government secrets, it would be one thing. But it has become an assault more broadly on the public's right to know about the seamier aspects of government behaviour.
Read more: Why the raids on Australian media present a clear threat to democracy
Governments have taken advantage of the war on terror to strengthen their ability to suppress unwelcome disclosure. In the process, they have raised the stakes for whistle-blowers whose conscience dictates that activities that skirt – or break – the law should be exposed.
The Labor opposition has baulked at its responsibilities to push back against some of the more expansive powers accorded under the security legislation.
Labor's weakness is not least a consequence of its worries about being wedged on national security issues. In this regard, governments of the day have taken advantage of legitimate concerns about multiple security threats.
All this is well described in Toohey's sprawling account of the history of the Australian security state. It stretches from the early fumbling days of the Australian Security Intelligence Organisation (ASIO), whose activities would not have been out of place in the Keystone Cops.
Read more: To protect press freedom, we need more public outrage – and an overhaul of our laws
Based on a lifetime of reporting for various publications, including The Australian Financial Review and the National Times, Toohey provides behind-the-scenes snapshots of the Central Intelligence Agency's anxieties about threats posed by the Whitlam government to American spy stations on Australian soil. He also examines the role of senior public servants in manipulating governments of the day and intelligence blunders that led to the Iraq war.
The list is long, and reflects poorly on the individuals and agencies involved.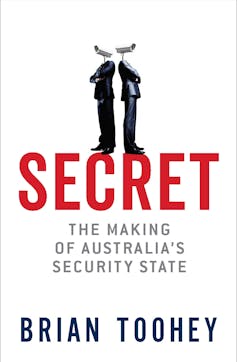 Authors: Tony Walker, Adjunct Professor, School of Communications, La Trobe University
Read more http://theconversation.com/book-review-brian-tooheys-secret-warns-against-australia-being-joined-at-the-hip-with-us-122848