Written by

Daniel Edwards, Research Director, Australian Council for Educational Research
Australia spent A$111.8 billion on education in 2015, the most recent year for which the full dataset for all levels of education spending is available. A report from the Australian Council for Educational Research (ACER) released today shows this was an increase of nearly 80% from 2000 spending.
The federal government contributed A$47.2 billion (42%) of the overall funding. State, territory and local governments spent A$39.1 billion (35%). A further A$25.5 billion (23%) came from private sources.
The ACER report is the first to capture data on education spending at all levels of education – from early childhood to higher education – from all funding sources.
The analysis separates funding into three sources: federal government; state, territory and local governments; and private sources (the latter includes contributions by students in the form of fees, as well as contributions by private businesses and non-profit organisations).
The report also organises spending by education sector and levels, as defined in Australia.
Spending by education level
Education funding goes through a range of transfers between the three sources. At different points in the funding cycle, the contributions by government sources are transferred to other funding sources.
Read more: Explaining Australia's school funding debate: what's at stake
For instance, the federal government transferred A$14 billion of its initial education funding to private sources in 2015, mainly in the form of student loans. It transferred a further A$17.7 billion to state, territory and local governments which then fund schools and other areas of education.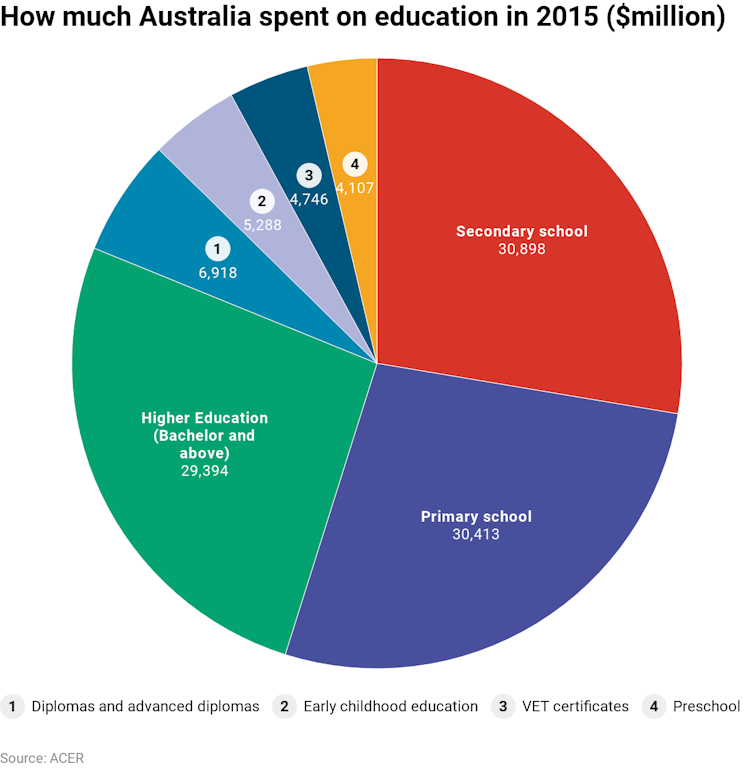 Authors: Daniel Edwards, Research Director, Australian Council for Educational Research
Read more http://theconversation.com/three-charts-on-how-much-australia-spends-on-all-levels-of-education-120076