Written by

Rebecca Jarvis, Research Fellow, Auckland University of Technology
The islands of New Zealand are only the visible part of a much larger submerged continent, known as Te Riu a Māui or Zealandia. Most of New Zealand's sovereign territory, around 96%, is under water – and this means that the health of the ocean is of paramount importance.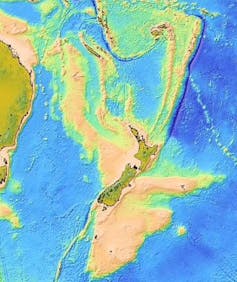 CC BY-SA
New Zealand's marine and coastal environments have significant ecological, economic, cultural and social value, but they face many threats. Disjointed legislation and considerable knowledge gaps limit our ability to effectively manage marine resources.
With the UN decade of ocean science starting in 2021, it is essential that we meet the challenges ahead. To do so, we have asked the New Zealand marine science community to collectively identify the areas of research we should focus on.
Ten important science questions were identified within nine research areas. The full list of 90 questions can be found in the paper and policy brief, but these are the nine priority areas:
Read more: No-take marine areas help fishers (and fish) far more than we thought

Authors: Rebecca Jarvis, Research Fellow, Auckland University of Technology
Read more http://theconversation.com/study-identifies-nine-research-priorities-to-better-understand-nzs-vast-marine-area-119547