Written by

Graham Meadows, Professor of Adult Psychiatry, Monash University
The poorer people are, the higher their chances of contending with domestic violence, crime, social conflict, homelessness and unemployment.
All these factors contribute to increased levels of psychological distress, which is associated with common mental disorders such as depression and anxiety.
In our research, of adults who recorded "very high" levels of psychological distress on what's called the Kessler Psychological Distress Scale, more than three times as many (30%) came from the most socioeconomically disadvantaged fifth of Australian areas than from the most affluent fifth (9%).
Read more: Three charts on: why rates of mental illness aren't going down despite higher spending
Along with where you live, personal income is an important influence: among the poorest fifth of Australians, one in four people reported "high" or "very high" psychological distress when compared to about one in 20 people in the richest fifth.
To begin to tackle this problem, we need to see more equitable distribution of mental health care; that is, delivery of care proportionate to need. As it currently stands, socioeconomically disadvantaged groups very often do not get optimal mental health care.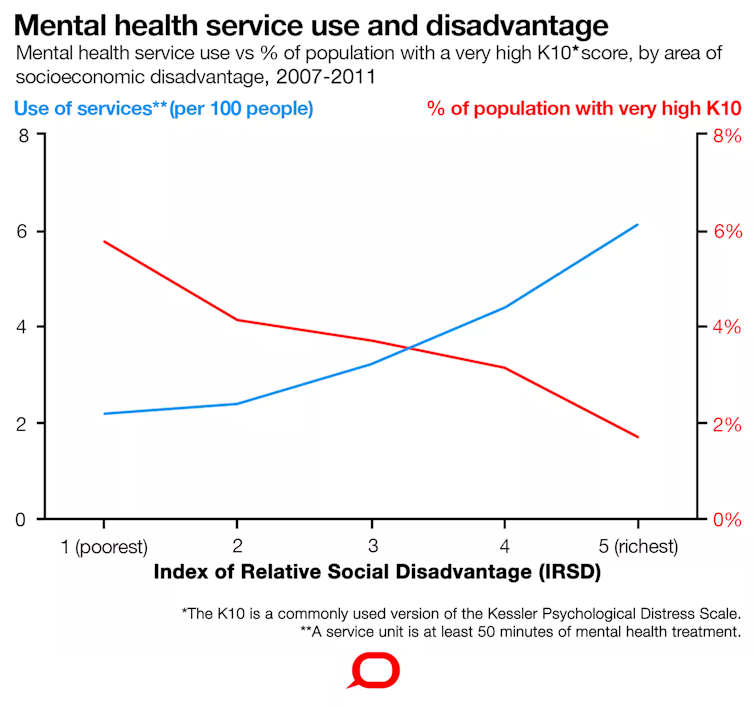 Authors: Graham Meadows, Professor of Adult Psychiatry, Monash University
Read more http://theconversation.com/when-its-easier-to-get-meds-than-therapy-how-poverty-makes-it-hard-to-escape-mental-illness-114505