Written by

Gregory Moore, Doctor of Botany, University of Melbourne
Sign up to the Beating Around the Bush newsletter here, and suggest a plant we should cover at batb@theconversation.edu.au.
Among the nearly 1,000 species of Australian acacias, there are few with a reputation for hardiness, resilience and endurance to match mulga. Once the higher rainfall of the coastal fringes of the continent diminishes, from west to east and south to north, the mulga prevails.
It grows over the vast expanse of about 20% of our continent and is often the dominant woody species of the grassland communities that are themselves known as the mulga. It is also an important shrub component of inland woodlands, such as those dominated by poplar box, Eucalyptus populnea.
Any species that covers 1.5 million km² of any landmass is clearly a vital part of its ecosystems.
The scientific name of mulga is Acacia aneura, which refers to the lack of a prominent mid-rib in their leaves (a means "no" and neura means "nerve"). Interestingly, like most Australian acacias, mulga lacks spines which their African relatives possess in abundance on their foliage, and they don't actually have leaves.
Read more: A detailed eucalypt family tree helps us see how they came to dominate Australia
The structures that appear to be leaves are actually flattened leaf stems called phyllodes. They function as leaves, but are very efficient in arid conditions. The narrow and rolled mulga leaves often have a sharp tip, so while they are not spiny they are still prickly.
Mulga plays an important ecological role in drier parts of Australia. It is a nitrogen-fixing species that enriches often impoverished soils, provides habitat for birds, insects, reptiles and mammals, and is important for honey production.
They drop many of their phyllodes during very dry spells, which not only reduces demand for water, but provides a vital mulch to their ecosystems during tough times. Acacia aneura is fire-sensitive, and changes to fire regimes can see it displaced by grass species. In parts of the outback, the species is not regenerating, and as the old specimens die the mulga is disappearing.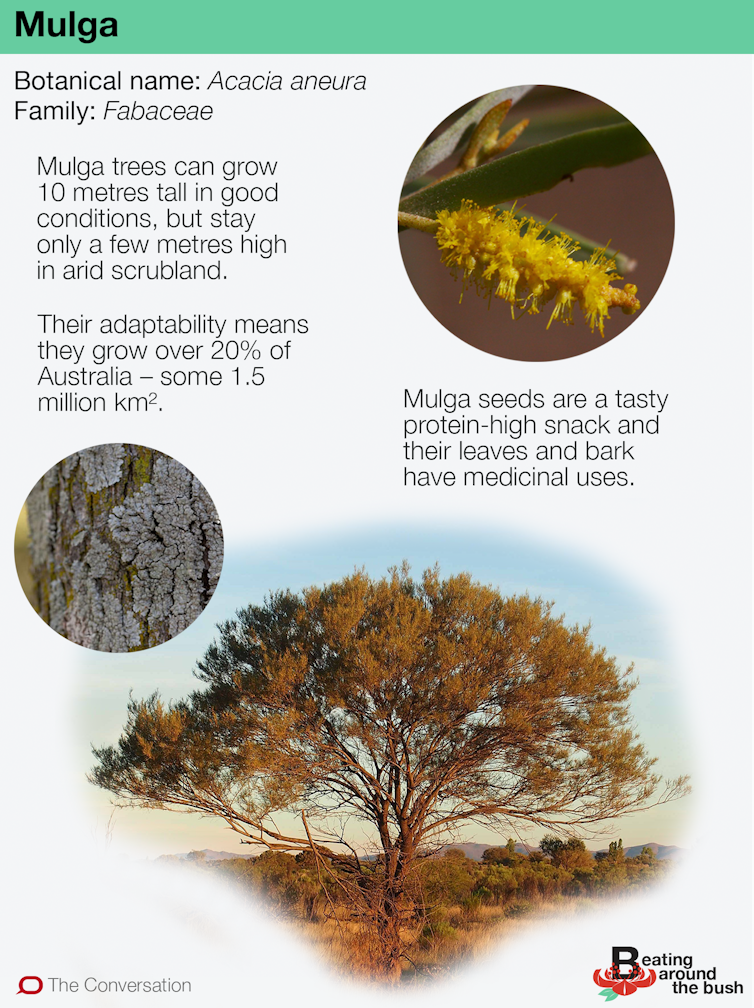 Authors: Gregory Moore, Doctor of Botany, University of Melbourne
Read more http://theconversation.com/the-mighty-mulga-grows-deep-and-lives-long-118838