Written by

Robert McLachlan, Professor in Applied Mathematics, Massey University
New Zealand's long-awaited zero carbon bill will create sweeping changes to the management of emissions, setting a global benchmark with ambitious reduction targets for all major greenhouse gases.
The bill includes two separate targets – one for the long-lived greenhouse gases carbon dioxide and nitrous oxide, and another target specifically for biogenic methane, produced by livestock and landfill waste.
Launching the bill, Prime Minister Jacinda Ardern said:
Carbon dioxide is the most important thing we need to tackle – that's why we've taken a net zero carbon approach. Agriculture is incredibly important to New Zealand, but it also needs to be part of the solution. That is why we have listened to the science and also heard the industry and created a specific target for biogenic methane.
The Climate Change Response (Zero Carbon) Amendment Bill will:
Create a target of reducing all greenhouse gases, except biogenic methane, to net zero by 2050
Create a separate target to reduce emissions of biogenic methane by 10% by 2030, and 24-47% by 2050 (relative to 2017 levels)
Establish a new, independent climate commission to provide emissions budgets, expert advice, and monitoring to help keep successive governments on track
Require government to implement policies for climate change risk assessment, a national adaptation plan, and progress reporting on implementation of the plan.
Read more: Climate change is hitting hard across New Zealand, official report finds
Bringing in agriculture
Preparing the bill has been a lengthy process. The government was committed to working with its coalition partners and also with the opposition National Party, to ensure the bill's long-term viability. A consultation process in 2018 yielded 15,000 submissions, more than 90% of which asked for an advisory, independent climate commission, provision for adapting to the effects of climate change and a target of net zero by 2050 for all gasses.
Throughout this period there has been discussion of the role and responsibility of agriculture, which contributes 48% of New Zealand's total greenhouse gas emissions. This is an important issue not just for New Zealand and all agricultural nations, but for world food supply.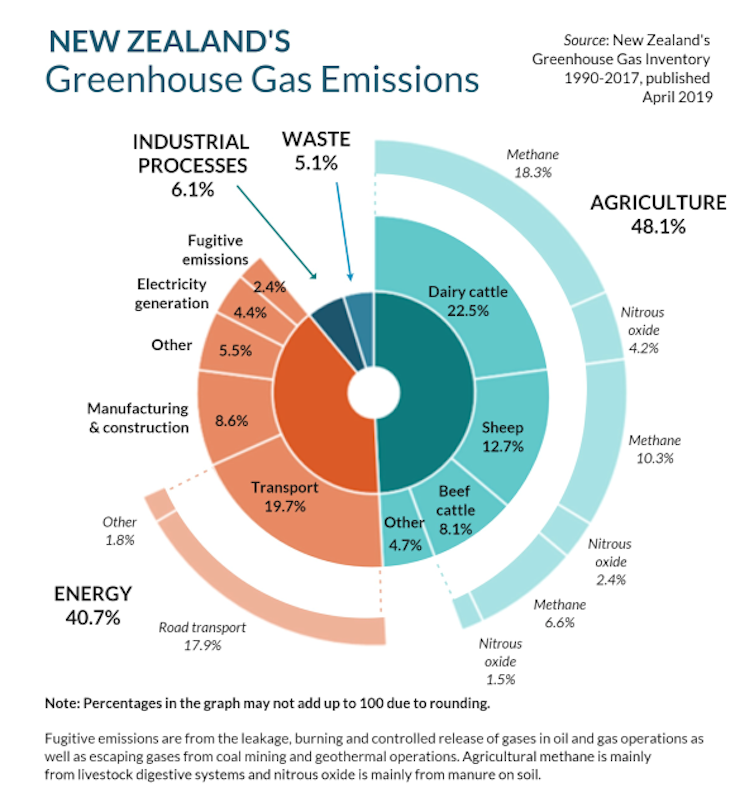 Authors: Robert McLachlan, Professor in Applied Mathematics, Massey University
Read more http://theconversation.com/nz-introduces-groundbreaking-zero-carbon-bill-including-targets-for-agricultural-methane-116724