Written by

Marie Russell, Senior Research Fellow, University of Otago
In the wake of the Christchurch terror attack, and the subsequent ban on military-style semi-automatic weapons, social media has provided a platform for gun owners.
Media have examined the influence of the American National Rifle Association (NRA) in New Zealand. But there is an aggressive home-grown gun culture online.
Read more: Why NZ needs to follow weapons ban with broad review of security laws
Protecting 'our' guns
The comment sections on a range of New Zealand firearms community Facebook pages reveal that the culture of many gun users is more extreme than the gun lobby wants us to believe. There are disturbing norms operating in local gun culture.
On the day of the shooting, some people posting on firearms groups' Facebook pages expressed shock and sorrow. Others were immediately concerned about how it would affect them as firearms users. Contributors on some sites openly discussed watching the shooter's livestream. Some Kiwi Gun Blog Facebook posters were interested in what firearms he used.
One posted:
Started with shotgun, then uses his AR15 to do the rest.
Some contributors to the page mentioned the victims of the attack but many clearly prioritised the perceived harm to firearms owners.
Very sad day. My condolences go out to the families. Only one group of people going down after this … is licenced firearm owners unfortunately. Watch the sale of semi's [sic] go through the roof before the ban is announced. Bury your semi's now before they get taken off you.
Other users enthusiastically agreed. In response to a later post inquiring whether proposed gun law changes mean that "we would have to surrender our ar's [firearms]", a contributor replied "lose them in a safe place".
Another said of police:
… they will need a lot of search warrants and a team of people with spades.
Yet another added, mixing an American NRA trope with The Lord Of The Rings:
They will have to pull mine out of my cold dead hands. They will never get my precious.
A privilege, not a right
The second amendment to the American Constitution has been interpreted as meaning that citizens have a right to bear arms, but in New Zealand owning guns is indisputably a privilege, not a right. The government has the right to ban high calibre semi-automatics, magazines and associated parts and to demand that owners surrender these weapons.
A parliamentary select committee will hear oral submissions to the Arms Amendment Bill this week, and the bill is expected to pass into law by the end of next week, with limited exemptions including pest control, theatricals and farming.
The use of NRA discourses on New Zealand firearms sites reveals confusion, or perhaps a state of denial, about what is legally possible in New Zealand.
I would rather see people with the right to carry for self-defence … . If a handful of those worshippers had been packing [carrying guns] that could have stopped this tragedy in the early minutes.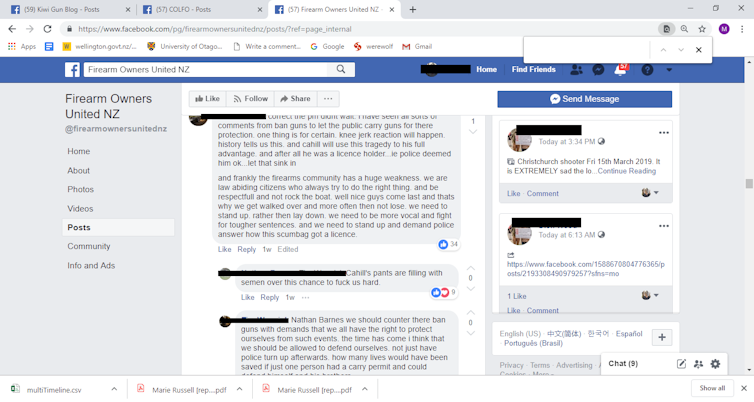 Authors: Marie Russell, Senior Research Fellow, University of Otago
Read more http://theconversation.com/new-zealand-gun-owners-invoke-nra-style-tropes-in-response-to-fast-tracked-law-change-114430