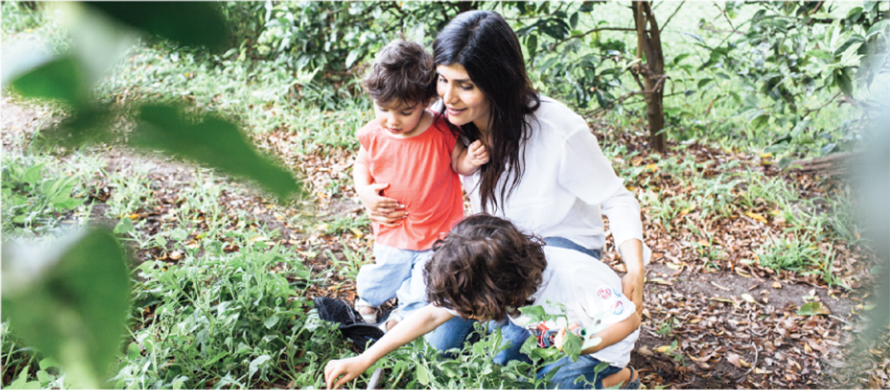 For many families, the fast pace of life can catch us out, and can mean we ignore important aspects of a healthy lifestyle. We are all guilty of it, and when you are juggling schedules, homework, school runs and running a household, it's understandable that health can often take a backseat. The best way to implement a new routine is to start now; it is never too late. This handy guide can take you through the basics and offer some easy suggestions to help you encourage your children to have a healthy lifestyle. It is easier to do this together, so get your thinking cap on and get inspired!

Eat Well
Being healthy starts from within, which means what we put into our bodies matter. A hectic schedule can mean that family meals become more of a task as opposed to something to enjoy. When you do get a chance to shop, it can be tempting to opt for easy meals and pre-prepared products. Although these save time, they can often be surprisingly bad for you. Try to encourage a healthy eating regime at home by making small, healthy changes to what you eat. You can do this by:
Planning meals in advance. This will save you time, as you can bulk buy ingredients and fresh veg. If you're feeling really organised, take a few hours on a Sunday to food prep for the week. You'll thank yourself come Thursday, when you've just finished ferrying the children around and need to get dinner on in quick time.

Encouraging a healthy diet. You can encourage healthy eating by replacing snacks with fruit, and opting for water instead of squash or cordial at meal times. These small, easy changes can have a big impact over time, as you are simply cutting out unnecessary sugars and fats, with minimal effort. If the unhealthy products aren't there to eat, they won't be eaten. It's as simple as that.

Exercise Together
The bread and butter of a healthy lifestyle are eating well, and doing enough exercise. The great thing about exercising as a family is that it also means you'll be spending quality time together. Whether you fancy a bike ride, an afternoon at a climbing wall, a swim session, or even a run in the park, set time aside during the busy week to get your blood pumping as a family. The great bonus of this is that you may find your child is a natural at a certain sport. This is only discovered through opportunity, and by encouraging being active and showing the positives of exercise, you'll avoid every parent's nightmare of a child or teenager who spends all their time indoors glued to screens.

Make it a Community Goal
If you live in a close set community, you could encourage charity fundraisers or group runs to raise money for charity. You could even set up a sports day at your local school. Make an event of it with group speakers, and there are even jumping castles for sale to make it a day to remember. Encouraging the community to get involved in health and fitness is a great feeling; you'll be giving your time to others for the benefit of the greater good, and who knows, the community fundraiser could become an annual event!

Have a good sleeping routine
It may be surprising to hear how important getting a good night's sleep is for a healthy lifestyle. Research suggests that we should aim for 8 hours sleep at a minimum. There are easy ways to both encourage and implement this at home. These include:
Setting bedtime rules – the best way to get children on board is by having rules about bedtime that are stuck to. This will help you get into a routine, as body clocks often adapt to a routine pretty quickly. You could also have a reward chart for your little ones if they struggle or refuse to get to bed on time.

Setting a time for a wind-down period – This should be when screens are switched off, and teeth are brushed. The blue light on screens can mentally keep us awake for longer and make it harder to sleep, so avoid television before bed. Instead, encourage your children to read a book, or read a book to them. Older children could enjoy a podcast. This can help them to naturally feel more relaxed before they nod off.

Getting an early night's sleep yourself – lead by example and get to bed as early as possible.

Utilise apps and the latest tech
It is now easier than ever to get on board with a healthy lifestyle due to the wide array of apps and tech that's been developed to help you reach your goal. You can find fitness apps to check your daily activity, from counting your steps to tracking the location and distance of your morning run. If you want to focus on your diet, there are apps to specifically help with weight loss and calorie counting, although it's unhealthy to fixate on calories specifically.

Day to day changes
Small, easy day to day changes can help you to promote fitness in the family. This can be as easy as opting to walk instead of driving or catching the bus where possible. As aforementioned, easy changes to diet such as swapping snacks for fruit will also be beneficial over time, and encourage your children to enjoy healthier foods. Try and fit in a yoga session before work, and make sure you and your family are aware of the importance of drinking enough water in the day. Water can also help us to feel more full – an added bonus!

Set goals
Having a set goal is one of the easiest ways to make change happen. By setting a 'deadline,' of sorts and having a joint goal, it will make all the hard work seem even more satisfying. You can even have rewards for your children if they meet a certain goal or stick to their bedtime routine, or eat all their vegetables for instance.
Encouraging a healthy lifestyle has never been easier; it's never too late to get started, and you'll see the benefits almost straight away. Start small, and who knows what you and your family will be capable of!