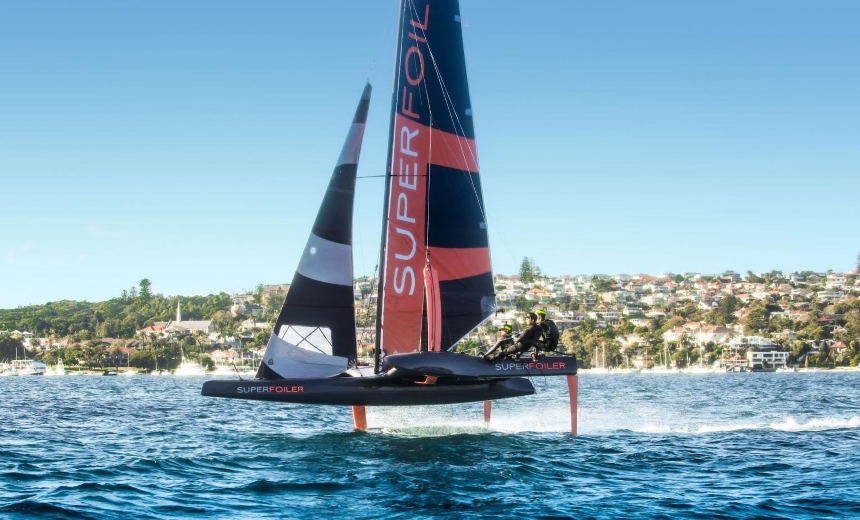 Sydney, Australia, June 28, 2017 – New South Wales Sports Minister Stuart Ayres today launched the SuperFoiler Grand Prix. It features the World's fastest foiling sail-racer on a new National Circuit of racing commencing in December this year, to be televised on the Seven Network.  
The SuperFoiler is a three-year development initiative of Australian entrepreneurs Bill and Jack Macartney. The father son duo set out to create a new breed of extreme racer built purely to 'foil'. Rocketing towards world leadership in the new sport that combines flying with sailing, their "SuperFoiler" is fulfilling the dream.  
Minister for Sport Stuart Ayres said innovation and technological leadership are qualities embraced in New South Wales sport.  
The Minister said "The SuperFoiler Grand Prix is setting new benchmarks in the sport of sail-racing. It's at the forefront of technology and creating a totally new experience for participants and fans"  
"The SuperFoiler Grand Prix brings a new energy to Australian sport with a super-charged league of elite athletes, women and men."  
The Macartney's have done it all before with their 18 Foot Skiff Grand Prix of the 1990s. They were inspired to re-launch Grand Prix Sailing after seeing the America's Cup Catamarans rise on foils, hitting unprecedented speeds and looking like hurtling sleek monsters.  
Bill Macartney, co-founder said "it was the America's Cup catamarans that convinced us to take a risk and commit to a design concept that is proving to be a significant leap forward. We saw that all other foiling sail-racers were fundamentally existing designs with foils added."  
Jack Macartney, co-founder said "The SuperFoiler concept was not to conform to any existing geometry or platform but rather create something that gave the foils structure to function and flotation to launch off while being highly aerodynamic. "Our brief to the world's leading designers Melvin and Morelli was to start with the foils, maximise power-to-weight and minimise drag."  
Foiling technology has triggered the biggest ever technological shift in sail-racing. It means wind powered vessels rise up onto wing-shaped foils, freeing themselves of drag and hitting unprecedented speeds. The vessel literally flies above the surface at speeds up to three times faster than the wind.  
The SuperFoiler is 26 feet long, 17 feet wide and weighs 350 kilos. Thus, she generates unprecedented power-to-weight and with aerodynamics and hydrodynamics fully exploited, minimum possible drag. Which means in 10 knots of breeze she's nudging up towards 30 knots of boat speed.  
The SuperFoiler Grand Prix will see six international crews racing at six events around Australia, all televised on the Seven Network.
"We have attracted the interest of key individuals in the America's Cup, that's simply reassuring us we're onto a good thing!" said Jack Macartney.  
This SuperFoiler is the first of six, with another five in production to complete the fleet. The SuperFoiler Grand Prix kicks off in December and will see teams go head to head at six locations across Australia.  
Bill Macartney said of the series "the SuperFoiler Grand Prix will be visually spectacular. Short, sharp, action-packed races will exhilarate crowds as they embrace a virtual experience of racing.  
"For those who remember the passion of crews on board the Prudential, Ella Bache, AAMI etc. on the 18 Foot Skiff Grand Prix – the SuperFoilers will deliver all of this and more."  
"One difference is how fast these machines are. It is not for the faint hearted."