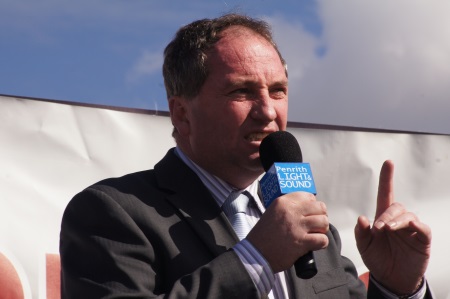 The Nationals are calling for farmers and landholders across Australia to be able to benefit from a greater share in the gas and oil resources extracted from under their land.
Deputy Prime Minister and Leader of The Nationals, Barnaby Joyce, praised an initiative of the South Australian government to pay landholders a 10 per-cent royalty for new gas production on their land.
"While I'm critical of the South Australian Labor government's failed energy policies that have plunged that state into darkness, I do praise their initiative to start talking about giving landholders a better return from gas development," Mr. Joyce said.
"I listened to Premier Weatherill's announcement and there is one issue I strongly agree with: a fair return has to go back to the farmer. I commend his recognition of this in the discussion of a royalty return back to farmers of coal seam gas extraction", Mr. Joyce said.
The Deputy Prime Minister's comments follow calls by the Commonwealth for state and territory governments to lift any gas moratoriums and revisit restrictions on gas exploration and development.
Mr. Joyce said landholders with gas reserves should be viewed by the industry as potential business partners and not as obstacles who could be ridden roughshod over.
"We need to have a national discussion on how to give landholders a greater say and greater share in the hydrocarbon resources on their land".
Mr. Joyce said he welcomed the growing realisation by so many that unless a fair return is provided to a landholder, then nothing may be released.
"Landholders have a right to a greater annuity from their land. By paying a royalty it means the value of a farmer's land increases as a result of gas extraction, rather than decreasing," he said.
However Mr. Joyce warned that the lifting of gas restrictions should not result in carte-blanche development.
"We must protect prime agricultural land and we must protect productive aquifers. Where these caveats are abided by in relation to gas extraction, then a strong return back to the landholder means a strong return to the town and the whole local economy; and it means a vastly better chance of a cooperative environment with landholders" he said.