Climb colourfully, dance vibrantly and experience the 'high'-lights of Vivid Sydney
Pull out your best dance moves atop of the Sydney Harbour Bridge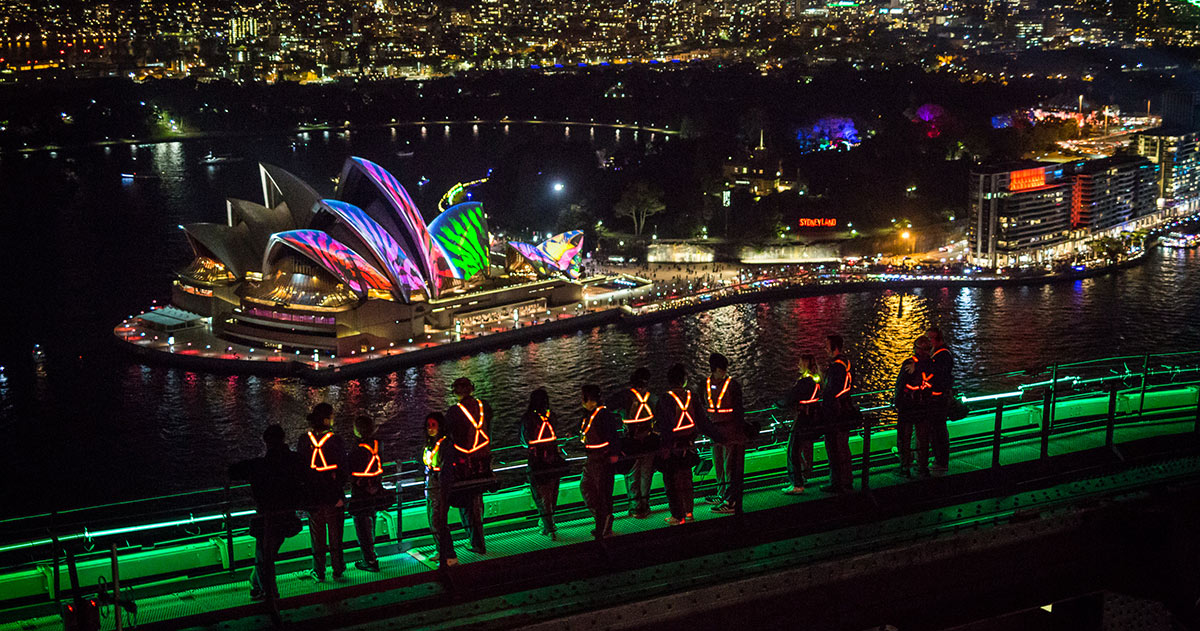 Back by popular demand, BridgeClimb Sydney will give climbers an unrivalled, 360-degree view of Sydney's world-famous Vivid festival by offering night climbs from 24 May - 15 June 2019.
Groups of 14 climbers will be outfitted with bright and flashy Vivid-inspired climbing vests for the 3.5 hour climb, adding to the dazzling display of light sculptures, installations and grand-scale projections visible from the Bridge. At the summit, climbers will be able to break out their best dance moves on a 70's inspired light-up dance floor to a soundtrack of upbeat dance tunes from the best vantage point in the city.
Each Vivid Climb will include a complimentary group photograph, cap and an eight second video capturing their sky-high dance performance.
Standard Night Climb rates apply from $188 per child (8 years and up) and $268 per adult.
For further information, visit www.bridgeclimb.com
Social Media:
Twitter: @bridgeclimb
Instagram: @bridgeclimb
Facebook: facebook.com/bridgeclimbsydney
LinkedIn: linkedin.com/bridgeclimbsydney
Weibo: @sydneybridgeclimb & @攀登悉尼大桥
About BridgeClimb:
BridgeClimb has established itself as an integral part of the Sydney tourism scene, with more than four million people having climbed the Sydney Harbour Bridge since the attraction's opening in 1998. BridgeClimb equips guests to climb to the summit of this world-famous icon and operates four different climbs; BridgeClimb, BridgeClimb Express, BridgeClimb Mandarin and the BridgeClimb Sampler. Climbs operate during dawn (limited departures), day, twilight and night. Voted the #1 Experience in Australia (TripAdvisor: 2018 Travelers' Choice), BridgeClimb is committed to creating memorable experiences, perfect for special occasions, family adventures, team building and corporate events. www.bridgeclimb.com / www.bridgeclimb.cn