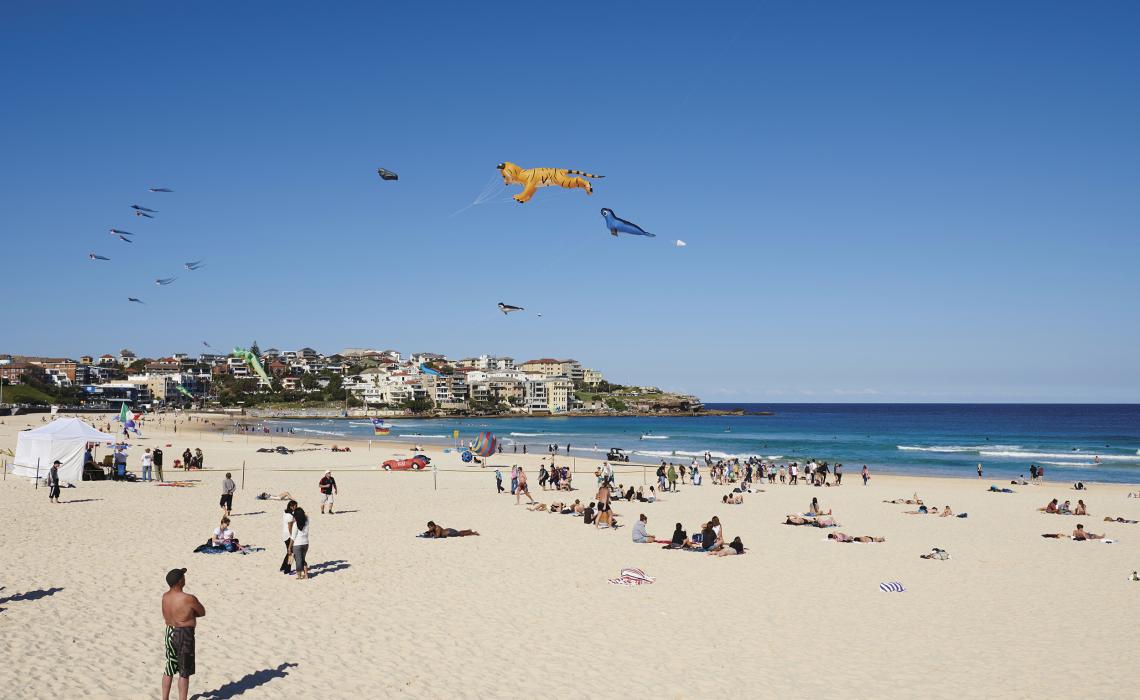 International and local stars of sport, art, music, film and the environment will gather in Bondi in April this year for the inaugural Bondi Ocean Lovers Festival to showcase to the public practical and fun ways to find out about loving oceans better and respecting the blue heart of our planet.
Festival founder and Bondi local Anita Kolni said the community consciousness about ocean health was generating a huge wave of concern making blue the new green, and her accessible festival would highlight everyday solutions from the commercial world through to the artistic, sporting and community sector.
"We want people from all walks of life to come see, learn something new, join the fun and celebrate our oceans," she said.
Waverley Council have supported the event, being staged from April 11 to 14, with the Bondi Pavilion as a central hub for dozens of films, talks and Eco Markets, while the beach will host activities ranging from sunrise yoga to surf and swim events and the local clubs and Ocean Loving venues like the Bucket List and Ravesis will host entertainment.
The festival will be a multi channel showcase of solutions to ocean recovery, cool products, projects and ideas for everyone and everyday living as an Ocean Lover.
A feature at the Bondi Icebergs Pool will be the Sydney Institute of Marine Science's "Live Ocean Revival Experience". Presented by Volvo the immersive display showcases current research projects focused on restoring the ecology of Sydney's coastline and harbour and invites the public to literally get in and swim through an underwater Crayweed forest and Living Seawalls installation.
"This is an incredible opportunity for the public to touch and see up close examples of projects that are quite literally saving our sea life," said Kolni.
On shore live music, art, photography and film presentations, workshops, practical demonstrations and information sessions will inspire and engage festival audiences.
Conservation and sustainability will be the driving theme – showcasing global and local best practice at the Eco Markets where 'artivist' Marina Debris will stage "Trashion" parades with her signature outfits made from collected waste. Respected environmental artist John Dahlsen will showcase his Waste No More exhibition, a 20-year retrospective, and some of the best ocean photographers in the country, supported by Nikon, are donating incredible works for a Blue Party fundraiser with prints by Matty Smith, Ray Collins and Franck Gazzola.
On the sand and in the sea competitive events and fun participatory challenges will find a fit for everyone who wants to demonstrate their love for the ocean and get wet at the Ocean Lovers Festival.
There will be a celebrity tag team surfing event, a Surfrider Foundation Gromfest presented by Ben & Jerry's ice cream, a showcase of designer dog beds for pet lovers an Ocean Lovers Lap of Bondi organised by festival ambassador and ironwoman champion Lizzie Welborn with the support of the North Bondi Surf Lifesaving Club and booking app TryThis, plus surf and yoga classes.
A special indigenous strand, understanding our particular Australian coastline and conservation through first people's perspective, conservation practice and art will define the Bondi Ocean Lovers Festival. This will include coastal guided walks and talks by local elder Tim Ella plus a special collaboration with North Bondi Fish for a walk and sustainable seafood talk followed by lunch by Ocean Lovers Ambassador Chef Jessie McTavish, son of legendary Australian surfboard shaper Bob McTavish.
Australia's own film and conservation legend George Miller, an Ocean Lovers Ambassador, will open a three day film program to feature family friendly, fun surf and ocean wildlife films as well as impact environmental films through collaborations with The Prince Albert II of Monaco Foundation and Mission Blue as well as exceptional local filmmakers like the team from 'Blue The Film' and 'The Map to Paradise'.
The festival will have both free and ticketed events on Humanitix from early March.
Kolni said the Ocean Lovers Festival was a uniquely Australian response to the global plight of the oceans. "It is focused on our love of water sport and recreation, alongside seaside culture – bundled in a fun festival to influence change and action on the greatest emerging issue in global human consciousness."
"Waverley Council proudly supports the Bondi Ocean Lovers Festival and is committed to the protection of our coastal environment. Our community has a deep connection to the ocean and we are very fortunate to live, work and play in our villages by the sea. We look forward to welcoming you to Bondi Beach and iconic Bondi Pavilion for this unique festival celebrating our oceans and fragile ecosystems," said the Mayor of Waverley, John Wakefield at the launch today.
More components and details are to be announced via the website and social channels in coming weeks.
https://www.oceanloversfestival.com/
Thursday, April 11


Waste No More Art Exhibition Bondi Pavilion Gallery 10am – 5pm
Welcome the Whales Opening Ceremony – 5.30pm – free
Live music and OLF Opening Party Bucket List – evening
OLF party Ravesis - evening
Friday, April 12


Talks – Bondi Pavilion – 12pm – 4pm - free and ticketed
Blue Date Day @ Bondi Icebergs 2.30 – 5.30pm
Kadoo Tours  / North Bondi Fish Sustainable Seafood lunch package – 10am – 2pm ticketed
Waste No More Art Exhibition Bondi Pavilion Gallery 10am – 5pm
SIMS Live Ocean Revival Experience @ Bondi Icebergs pool – 8am – 6pm
Ocean Lovers Film Festival opening night – Bondi Pavilion Theatre - 6 – 10.30pm – ticketed
Live music – Ravesis – evening
Saturday, April 13


Sunrise Yoga – Bondi Beach – 6am - 7am – free
Guinness Book of Record attempt for the most number for swim caps recorded on a beach – 9am North Bondi Surf Club
Ocean Lovers Lap (fundraising sporting challenge) – 10am – 12pm - North Bondi Surf Club
Bondi's Biggest Beach Clean Up – 12pm – 4pm – free North Bondi Surf Club
Talks – Bondi Pavilion – 10am – 4pm - free and ticketed
Eco Markets & Expo – Bondi Pavilion – 10am – 4pm
Marina Debris Trashion Parade11.30am & 1pm - Bondi Pavilion Amphitheatre
Waste No More Art Exhibition Bondi Pavilion Gallery 10am – 5pm
Kids workshops and activities – Bondi Pavilion – 10am – 4pm – free
Indigenous Ocean Care walks and talks – 10am – 4pm – ticketed
SIMS Live Ocean Revival Experience @ Bondi Icebergs pool – 8am – 6pm
Ocean Lovers Blue Party Fundraiser – 6.30pm – 11pm North Bondi Surf Club - Ticketed
Live music – local venues – evening – free
Ocean Lovers film program – Bucket List & Pavilion Theatre 12 – 10pm – ticketed
Sunday, April 14


Talks – Bondi Pavilion – 10am – 4pm - free and ticketed
Eco Markets & Expo – Bondi Pavilion – 10am – 4pm
Marina Debris Trashion Parade 11.30am & 1pm
Art Exhibition Bondi Pavilion Art Gallery 10am – 5pm
Indigenous Ocean Care walks and talks – 10am – 4pm – ticketed
Kids workshops and activities – Bondi Pavilion – 10am – 4pm – free
SIMS Live Ocean Revival Experience @ Bondi Icebergs pool – 8am – 6pm
Surfrider Gromfest– South Bondi – 8am – 2pm
Tag Team Surf Event – South Bondi – 2pm – 4pm
Tag Team After party – 4pm till late @ Bucket List
Ocean Lovers film program – indoor venues 12pm – 10pm – ticketed