Written by Garry Muratore No Maccas Social Media Team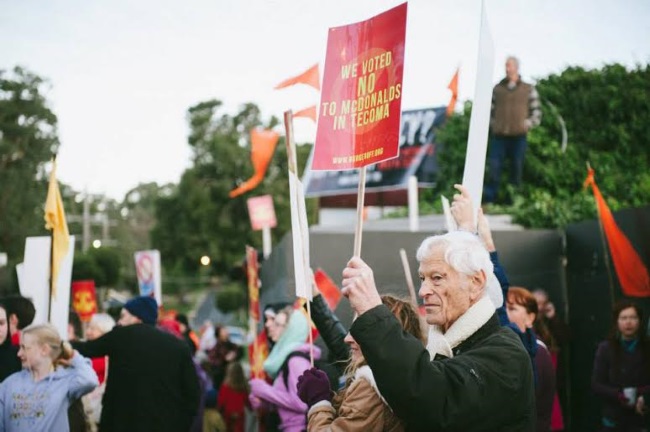 Corporate bully resorts to legal action in a case that is fast becoming "Tecoma 2.0".
Tecoma, Victoria 29/10/15: The No McDonald's in the Dandenong Ranges campaign are appalled to learn that McDonald's is again using legal intimidation to bully their way into a community. This time the community of Applecross (WA) have been threatened with legal action if they do not remove neighborhood impact statements from documents that are to be tendered at a State Administrative Tribunal hearing next month
"Frankly we are gob smacked that McDonald's would again resort to such xxxxxxx  (ed ) ." Said No McDonald's in the Dandenong Ranges campaign spokesperson Garry Muratore "After Tecoma's trip to the Supreme Court McDonald's came out of it looking like bullies, so to repeat such heavy handed tactics shows that McDonald's have learnt nothing from the PR disaster that unfolded here in Tecoma"
The threatened legal action in Applecross mirrors the tactics McDonald's employed in July 2013 when they (McDonald's) issued Supreme Court Writs against eight members of the Tecoma community. The highly publicised court case became known as "The Tecoma 8" with community members facing the prospect of an expensive damages claim for protesting against the unwanted McDonald's store at Tecoma in Victoria's Dandenongs Ranges east of Melbourne. With a Change.org petition of over 106,000 signatures the Tecoma community crowd-funded over $40,000.00 to run a damaging PR campaign against the corporate giant in their hometown of Chicago. With full-page ads in the Chicago Tribune and Australian activists featuring heavily in the US media, McDonald's eventually dropped their court action.
The Fairfax papers at the time described the Tecoma fight as "Australia's biggest corporate PR disaster" after former McDonald's CEO Catriona Noble was asked on ABC Radio why her company was fighting with the Tecoma community. Her answer was widely regarded as an own goal when she answered  "We are not fighting with Tecoma, we are just suing them" She went on to claim that McDonald's respected Tecoma's right to protest despite that fact that they (McDonald's) were spending hundreds and thousands in legal costs effectively trying to take away the community's right to protest.
"We would hope that the current CEO Andrew Gregory remembers the mistake his predecessor made, in dealing with communities who object to McDonald's coming to their town. McDonald's seem to think it's acceptable to use the courts to overturn democratic council decisions. It's as if the planning laws don't apply to them," said Muratore
Applecross resident Michael McCormick said he was warned about the possibility of McDonald's taking legal action after talking with members of the Tecoma campaign. "McDonalds have deeper pockets than us – it is not a fair fight! I felt intimidated by the global giant" said McCormick in a media statement issued by the Applecross community yesterday.
The No McDonald's in the Dandenong Ranges group sent campaigners to Perth earlier this year to assist in the campaigning in Applecross. "This is not the first time we have reached out to assist other communities," said Muratore. "We have even assisted communities in the U.S. U.K. and Italy over the past year or so and in every case McDonald's have sought to overturn local council planning decisions. We see Applecross as Tecoma 2.0 and communities need to stand up to such bullying behaviour"
About No McDonalds In The Dandenong Ranges: No McDonalds In The Hills (aka No Maccas In The Hills or No Maccas In Tecoma) NMITDR is a grassroots community campaign, based in Tecoma in the Dandenong Ranges that uses peaceful protest & creative communication to expose the environmental, social, health and civic problems associated with inappropriate developments such as the Tecoma McDonalds outlet. We aim to promote community driven solutions that are essential to support and protect a healthy, environmentally friendly and just future. This will ensure the closure of McDonalds in Tecoma.
Our Values
We adhere to a peaceful and non-violent code of conduct.
We place the wellbeing of the Tecoma community and the Dandenong Ranges at the core of all do we are united in our commitment to our community.
We run an ethical campaign.
We give back to our community.
We operate on a non-profit basis.
Further information can be obtained from the group's website www.burgeroff.org.