Written by

Samantha Desport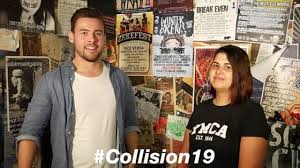 On Sunday 3 March, 2019 YMCA's iconic HQ arts hub will host Collision Festival, a free youth-led festival aimed at empowering, showcasing and celebrating the many talents and achievements of young people across Western Australia. 
The festival will run from midday to 10pm and include three different live music stages, each showcasing a wide variety of local WA headliners and upcoming acts of many genres. There will be roving performers, dance competitions, circus acts, and buskers. There will be a pop-up marketplace for young business owners and youth organisations, food trucks, interactive workshops and inspiring key note presentations.
"We usually only see young people celebrated as individuals, and Collision Festival seeks to empower young people as a whole by creating a diverse programme that caters to young people from all walks of life", explains Tia Sandhu, YMCA Youth Projects Coordinator, and the brainchild behind the festival.
"We floated the idea of putting on a youth festival with our CEO, Ross Kyrwood, and he encouraged us to create work collaboratively with the HQ staff to design a diverse festival programme. We have been generously supported by YMCA WA, Murdoch University, Healthway, Lotterywest, and City of Vincent."
Tia's vision for Collision Festival is to combine entertainment with community engagement by providing an environment for inspired young people to have their voice heard. Collision is also replacing Next Level Festival, which has run at HQ for the past three years.
"By combining resources we have been able to substantially grow the event, and we're looking forward to a huge festival with some big name local performers and presenters," confirmed Andrew Rigg, Youth Services Manager - YMCA HQ.
"We're thrilled to be able to support the vision of young people. Tia, the orchestrator of this festival, is just one great example of the great vision our future generations have. This youth festival is desperately needed for our local young people to provide a space for them to explore ideas and opportunities whilst networking with both peers and experts." says Professor Romy Lawson, Murdoch University (Provost).  



The festival line-up includes:
Music  Spacey Jane Arno Faraji Superego Demon Days
Speakers  Jordon Steele-John, WA Greens Senator Tal Karp, Ex-Matildas Player & former Olympian
YMCA HQ provides support for young people, between the ages of 11-25 years, through a variety of art and performance activities, workshops and programs, such as Sweet Oblivion, Hoops & Jams and Impact. The inspiring and far reaching impact of the work undertaken by YMCA HQ is supported by The City of Vincent and Drug Aware.
For more information follow @Collisionfestival on Instagram #Collision19                                                        
or visit https://www.ymcawa.org.au/what-we-do/youth-services/ymca-wa-collision-festival