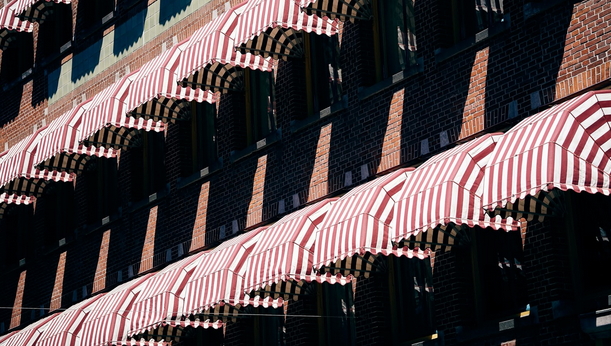 Awnings are a functional and decorative addition to one's deck and patio that provide shade. With summer right around the corner, most of you homeowners are probably wondering how to choose the right retractable awnings for your home. From colour to material, selecting the right awning for your home and business is crucial. At least to get away from the scorching sun. Finding the best canopy hanging for your entryway is one choice you can't get wrong this coming month. Here are some tips that can help you select an impressive retractable awning here in Melbourne.
Size of the awning
When buying awnings in Melbourne, choosing the right shape and size is essential. Different sizes may not suit your intended purpose; choosing either very large or petite awning sizes than one's patio or deck can end up being a waste. Smaller awnings are considered decorative, while larger ones are intended for shade and providing more coverage. For retractable awnings, the canopy size is also determined by the storage space available once it's removed.
The material used in making the awning
Awnings are predisposed to various weather conditions. Despite the shorter time frame of exposure, retractable awnings have the material used to keep it durable permanently. Retractable awnings can be made either from fabric or aluminium. Shelters that are mostly intended for customization and décor are made chiefly using material. Aluminium-based ones usually serve for durability since they have less maintenance. For most homeowners, aesthetics are more preferred when using retractable awnings; thus, fabric ones suffice.
Colour of the awning
An often-overlooked factor that many homeowners ignore is choosing which colour their retractable awnings should be. Wrong colours selected often end up ruining one's home outlook, as it may end up sticking out like a sore thumb. For both beauty and durable aesthetic design, bright colours that match your premise is very crucial. This also serves an objective function where vibrant colours tend to reflect sunlight rather than absorbing it. The resultant effect is having a more refreshing patio or deck when using the retractable awning.
The warranty offered on the awning
When buying a retractable awning with any other goods, a warranty is often an assurance that a product is of high quality and very durable. Guarantees are issued to cover situations where an awning fails to perform or get compromised, and the manufacturer accepts a free repair or replacement from the buyers. Reputable vendors will often sell shelters that have a guarantee of more than one year. Buying retractable awnings without any warranty agreement is highly discouraged.
Cost of an awning
The decision to buy a retractable awning will ultimately come down to what it will cost. On average, the cost of purchasing an awning in Melbourne ranges from $650 to $3843. However, this price is exclusive of installation cost, which can also vary between $175 and $450. One of the best places to get the best prices in Melbourne for quality retractable awnings and installation rates is through Awnings By Design. It is highly recommended to buy quality awnings even when on a tight budget. Cheap and inexpensive awnings often break down quickly and result in misspent funds.
Conclusion
As the use of retractable canopies becomes more popular, making the right decision in selecting one comes down to the points mentioned above. When it comes to home improvement, settle down in Melbourne requires an excellent awning for the summer months to come. Find out more about their services. A right selection will provide sun protection for your home and offer an expanded space on your patio or deck for outdoor entertainment.

About the Author
Patrick Watt is a content writer, writing in several areas, primarily in business growth, value creation, M&A, and finance. Other interests also include content marketing and self-development. Say hi to Patrick on Twitter @patrickwattpat.