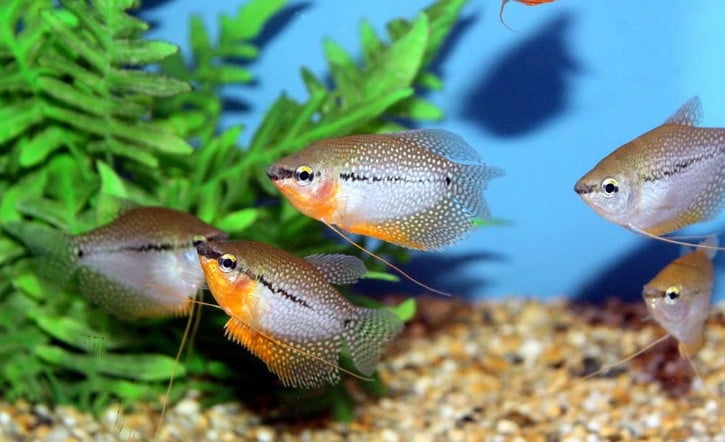 If you are looking for something to spice up the décor in your home but you don't want to undertake a major renovation – why not look into setting up an aquarium in the room you want to renovate? Aquariums are growing in terms of popularity when it comes to adding new décor items to your home. They aren't décor made up of harmful plastic or chemicals but instead, they are natural homes for certain fish species!
Aquariums have also shown in studies to be soothing to the ones who are around them by slowing a person's heart rate, slowing the mind, and reducing anxiety. This is because watching the schools of fish swim through the water in an effortless glide is both hypnotizing and beautiful. The shimmering kaleidoscopes of colors that form when the lights reflect off the water is breathtaking and the sound of the gently lapping, gurgling water is essentially a white noise machine in a glass container.
Aquariums are also versatile in the sense that you can match into your current décor by choosing fish species that have similar color schemes and you can even choose a theme for your aquarium for additional creativity.


Decorative Reasons
An aquarium is a wonderful addition to your décor as previously mentioned. You can design the interior décor of the aquarium to a similar style or color scheme of the room within your home where it will be housed. Choose exotic fish of vivid coloring to brighten up a neutral room or choose rainbow species of fish to blend in seamlessly.
You can even add décor within the tank to blend in with the current décor by choosing items that will match the color scheme. Think bright volcano rocks and dark sunken ships. If you have a lot of plant life in your home, then add this to the aquarium for your little friends to weave around in a fun game.


Responsibility & Relaxation
Aquariums relax us and they tend to blank the mind in a good way for a mental reset. The blinking lights can be spellbinding and the determination of the fish swimming from one location to the next is inspirational. Can you imagine sitting down after a long day at the office with a glass of wine and dimming the overhead lights with just the aquarium cutting through the dusk, and unwinding while watching the fish move, swim, and play? Perfection.
Responsibility is also a factor when it comes to owning an aquarium. They are the perfect pets for younger children who want a pet but aren't ready for the upkeep of say, a cat or dog? They can be responsible for feeding the fish, ensuring the water filter is changed, and the lighting turns on/off at the appropriate times!



Maintenance
An important part of owning an aquarium in the home is the maintenance of the aquarium. While they aren't like a dog or a cat in terms of interaction with your pet, they still need a clean place to thrive, live, and sleep.
You want to always have the proper lighting system that will heat the water to the temperatures desired for your chosen fish and a lighting system that will mimic their natural habitat in terms of the sun.
Cleaning the aquarium should be done on a regular weekly or bi-weekly basis to prevent an abundance of waste, algae, and food particles that could cause health problems for your fish. A water filtration system will help this problem from becoming out of control as it will circulate the water to remove harmful contaminants. Filters such as the eheim filters work great!



Choose the Right Fish
One thing to remember when it comes to setting up an aquarium in your home is that the fish who will reside within its walls must be a good selection. Choose fish that will not grow out of the aquarium in terms of size, choose fish that are compatible with multiple species to prevent fighting and possible fatalities, and ensure that the fish you choose are the same gender unless you plan to breed fish.
Include items in your aquarium that will suit the fish species as some fish prefer more marine life to swim among over decorative items such as rocks whereas other fish species want those rocks, sunken boats, and more to hide among and rest.


Conclusion
Aquariums can be fun to set up in terms of choosing the interior décor and the fish who will reside there. They are extremely versatile and they can relax even the most stressed of human beings. They can be creative projects or a way to teach responsibility to children by adding the maintenance chores that come with an aquarium to their list of chores as fish are perfect starter pets. They will learn the responsibility of keeping another creature healthy and happy while enjoying the same relaxing benefits as the adults.
The reasons for owning an aquarium is long and varied but you are still in control of your vision. You can decide on the size of the aquarium, the décor inside, the fish species you are going to place within its confines, and even the location for the aquarium!
Now that you know why an aquarium would be a great addition to your home – why not head to your local pet store today and browse your options? If they don't have what you are looking for, then head to the numerous online sources available.