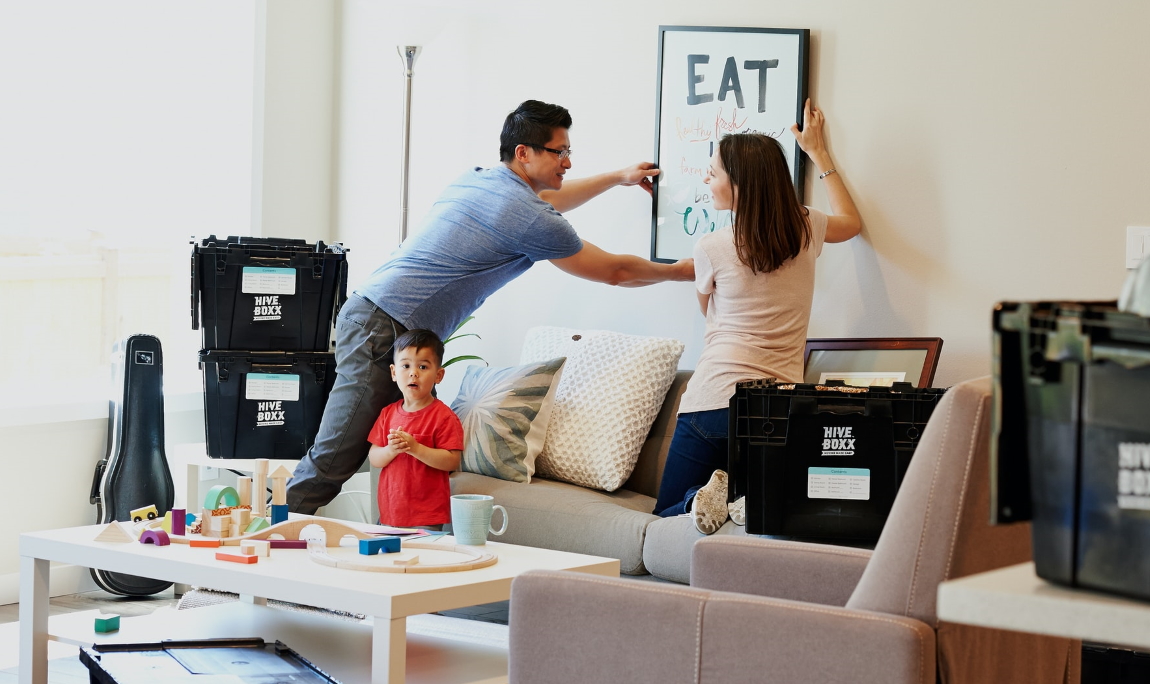 Moving with small children is usually associated with lots of organization and stress compared to a relocation without kids. But with a tiny bit of planning your move can be easy for the whole family. We compiled the following 10 tips to make the whole experience easy and get everyone to the other end relaxed and excited about their new home.
1. Good preparation is half the battle
There's no developmental benefit in your kids experiencing the stress of moving, so where possible try to shield them from it. Sit down together and talk about the move as early as possible in a child-friendly manner. Explain to your child exactly why you're moving. Is your current place too small? Are you moving interstate for your job? Let them ask questions and ask how they feel about moving. Most kids naturally look for the positives in a situation and talking with them about your relocation will help them feel good about it.
2. Turn the unknown into the known
If you're moving nearby then get in the car and drive there. If your children have already seen their new surroundings it won't be completely new on the day of the move. Explore the area around your new house or apartment. Is there a playground just around the corner? Or their favorite restaurant? Anchoring positive expectations and positive impressions right from the start will help ensure that your child looks forward to their new environment. If it's unpractical to show them the new area, if you're relocating interstate for example or the new place is just too far away then pictures will help a lot.
3. Picture books about the move
Picture books bring many difficult subjects closer to many children in a playful and beautifully illustrated way. Sit down with your kids and look at the picture book together more than a few times. If you talk about the place in an upbeat tone while you're looking at the pictures then they will make positive associations with their new home. Find the right books and pictures, you can even use the internet to look at the new place, but get them to think about and look forward to their new home in advance of the move.
4. Little architects: children's room planning
If they are already big enough include your kids in the children's room planning. I know this is easier said than done, and you can't have the whole place looking like a kid's room, but it's a lot of fun for children when they can choose their new surroundings themselves. Maybe they can choose a new piece of furniture, a new carpet or a bedside lamp? The objective is to get them to accept their new environment. Don't underestimate the power of a few light-hearted discussions about the move and how this will make life easier for you down the road.
5. Little helpers, big impact
Let's be honest: moving is much easier without kids. If you don't have a removals company managing your relocation and you need to do it yourself, then try to get a friend or family member to look after them. It's not only easier it's much safer for them too.
But if there's no other way and you need to do the move together with them then it's actually easier to get them involved. You don't need to have them carrying a dishwasher together but if you can give them small taks like carrying a box with their toys they're less likely to get bored and make your life difficult. Otherwise, create a temporary play area for them in your new place.
6. Childproof your new place in advance
If your kids are still that young and your home needs childproofing, it's advisable to do this or have this work done before you move in. Professional removals companies will help with this as part of the delivery. A key part to making the move easier for your kids is making easy for you too. If the new place is full of unprotected edges and dangers that's going to stress you. Movers can help at least with smaller things like stair gates and electric socket protectors.
7. Home Sweet Home
Getting the kids to help create their new surroundings is great for them. They'll love it and I strongly recommend it. But as valuable as that experience is, it is unwise to set up a completely new children's room. You don't want to replicate their old rooms 1:1 of course but their bedrooms are where they will spend most of their time alone. If you really want to refurnish your whole home consider at least waiting a while. They will sleep best in your own bed. Giving just a few weeks to settle in will have a big positive impact on them and they'll thank you for it.
8. Take a look around the new place
Once you're in the new place and the removalists have left, go on a discovery tour with your child and show them every room. If you have things from your old place make sure to point them out. This will make them feel familiar faster. Set up their room as soon as possible. Persistent chaos can stress a child and make it difficult to get used to it. However, the usual rituals are even more important than unpacked boxes. Dinner together as a family and their normal bedtime story should not be missed.
9. Stay calm ...
Remember, this move is about you and them together. The calmer one party is so the other. Quiet and time are the most important thing when moving with children. Make sure that your little ones always have a someone they can turn to. Be around for them. This is the best way to learn about and respond to your children's fears and questions.
Kids grow up so fast. Too fast. The last thing you want in 10-20 years is to look back at these points in your life and just remember being stressed. Moving isn't all exciting. I know. It's stressful too! But take a little bit of extra time today to just anchor positive memories together with them. The relationships you can build with your kids during these big life events are what life is all about!