Written by

Tess Sanders Lazarus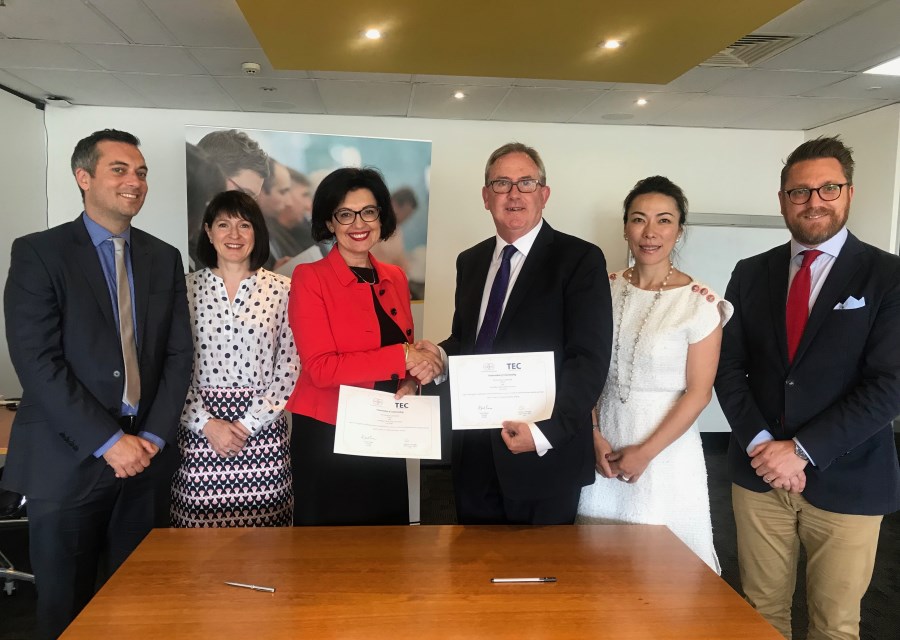 Two of Australia's key business networks, the Australia China SME Association (ACSME) and The Executive Connection, commonly known as TEC, have just signed a ground-breaking Memorandum of Understanding (MOU) bringing the two organisations together to support and grow business opportunities with China across Australia's small to medium business sector. 
ACSME is placing a unique focus on the development of business relationships between Australian and Chinese SMEs and assisting Australian businesses to develop their capabilities to export, source and raise capital from China.  It does this through strategic partnerships, informational and educational forums, the facilitation of introductions, trade missions and other forms of support.   ACSME membership is currently free and is growing at a rapid rate as more and more Australian businesses seek out the opportunity to engage and do business with the massive Chinese market.
The Executive Connection is a member based organisation which fosters leadership and provides workshops, mentoring, networking and support to CEOs, executives and business owners across Australia and New Zealand.   It has 1,200 local members in Australia and is part of a global network with more than 21,000 members representing a range of industries and backgrounds in 16 countries.  The Executive Connection conducts regular meetings involving collaboration and engagement among members to advance their interests and address and resolve business issues, challenges and barriers to success.
"China represents a huge market opportunity for Australian businesses however it has proven difficult for many businesses to penetrate for a range of reasons," David Thomas, Founder and President of ACSME and well known China Expert, said today.
"ACSME is a platform dedicated to assisting Australian businesses, particularly small to medium sized businesses to develop the capability and confidence to do business in China and overcome challenges along the way.
"Business owners and executives in both Australia and China have a strong interest in cross-border investment, trade or business opportunities but are not sure where to start or how to prepare their business for the export potential.   This is where ACSME comes in.  We are experts and experienced in doing business with China and can help businesses to better understand and appreciate the complexities involved, undertake the necessary preparations and research, and develop a market entry strategy.
"The newly signed MOU with The Executive Connection is a fantastic opportunity for ACSME to engage with the medium sized business sector in Australia, which has the most to gain from China engagement, and we look forward to working with The Executive Connection's members to maximise all opportunities and support them in their China journey.  
"The MOU is essentially a strategic collaboration between ACSME and The Executive Connection to support The Executive Connection's members  (mainly the CEOs of Australian mid sized companies) in their engagement with China.
"As part of the collaboration, Stephanie Christopher, CEO of The Executive Connection, will join the Advisory Board of ACSME and The Executive Connection will be promoted as a 'Foundation Member' of ACSME.
"Opportunities will be developed for The Executive Connection's members to be involved in ACSME's activities in Australia and China.  These will include:
. Participating in a ground-breaking survey of Australian SMEs to understand the current levels of interest, success and challenges of doing business in China,
. Participating in ACSME missions to China,
. Meeting Chinese delegations hosted by ACSME in Australia,
. Attending other ACSME events in China and Australia including ACSME's regular monthly Roundtables in Sydney; and
. Collaborating with ACSME's strategic partners in China including the Guangdong SME Association,
the Shenzhen SME Association, the Australia China Home and Building Materials Alliance and many others."
"The MOU represents a significant step forward for Australian SMEs and the business community more broadly.   The Executive Connection's members are ideally placed as the CEOs of Australian mid sized companies (privately owned, profitable and successful across many industries) to become more engaged in the China opportunity for export, sourcing and capital raising.   This means more opportunities for Australian businesses, more local jobs and more flow on benefits for our economy.
"ACSME's ultimate goal is to see more Australian businesses benefiting from China's growing market through export, investment and collaboration opportunities.   This will benefit Australia and our future as a nation if we support more Australian SMEs to promote and sell their products and capabilities overseas."