Written by

Tess Sanders Lazarus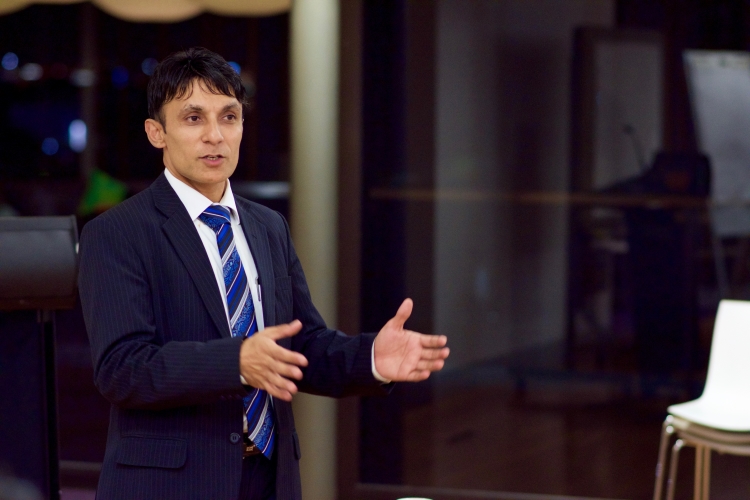 After growing up in a poor village in Pakistan, Shahid Majeed developed a deep passion for creating change and inspiring others to become the world's future leaders.
According to Shahid Majeed, owner and founder of E-LEAD Global Centre of Excellence for Leadership, Engagement and Development (E-LEAD), "having a tough start to life shouldn't hold anyone back when building a career and being a leader in the future."
"After going through my own hardships earlier in life, I want to inspire and motivate the younger generations to follow their passion to pave their own futures," Shahid added.
"My dream has always been to launch my own business to create highly experiential and effective programs for future and emerging leaders.
"I didn't have any financial or people resources when I decided to launch my business.
"To pursue this dream of mine I had to leave a salaried position of over 12 years and start E-LEAD from scratch.   It was very challenging to convince people to buy into my passion and vision when I was only one person.
"I had to manage everything we achieved by leading from the front, inspiring and motivating people to be engaged with my passions."
By building a strong sense of community and interconnectivity between the members of E-LEAD community, Shahid is paving the way for leadership programs across the globe.
"It is really important that the youth are supported and assisted when it comes to striving and achieving their best," Shahid added.
"Helping them grow and flourish from the early stages of their professional lives will only lead to positive outcomes. Leadership development should not be limited to those who can afford it.  It should be available to all people across all sectors of our society.  Money, access and power should not dictate who accesses leadership development opportunities. Everyone is capable of becoming a great leader if given the opportunity to learn, be mentored and appropriately supported.
"Throughout my career I have founded and established a large number of leadership initiatives from scratch, including the inaugural International Leadership Development Program (I-LEAD) that brought together 13 of the world's leading business schools from six continents to Australia including Wharton, Kellogg, MIT Sloan (USA), INSEAD (France), London Business School and Cass Business School (UK), Copenhagen Business School (Denmark), IE Business School (Spain), NUS Business School (Singapore), Wits Business School (South Africa), Universidad de Chile Business School (Chile), Auckland Business School (New Zealand) and UNSW Business School (Australia)".
Shahid also founded the inaugural Graduate Student Association at the UNSW Business School, which was selected as the best club of the year within just the second year of foundation.
"Having worked for over 15 years for other organisations, I decided to take the plunge to launch a global leadership centre to make my dream into a reality."
Drawing inspiration from the leading universities and business schools all around the world such as Yale, Harvard and Wharton, E-LEAD Global is continuously developing dynamic and contemporary experiential leadership programs.
"We are constantly thinking creatively to develop and launch new and vibrant initiatives," Shahid said.
"In 2018, E-LEAD is launching a residential experiential leadership program (LeaderAction) for early career professionals, a graduate recruitment immersion and training program (GRIT) for university students along with a corporate partnership program to secure corporate sponsorship for E-LEAD programs.
"E-LEAD is devoted to developing and enhancing the capabilities, aspirations and impact of future and emerging leaders for active global leadership.
"All of our programs develop excellence in people through employing a holistic life-cycle approach by blending together experiential leadership learning and development with electronic engagement.
"Seeing E-LEAD become a distinctive centre of excellence in experiential leadership development for future and emerging leaders is where I see E-LEAD heading."